Murals turn drab into fab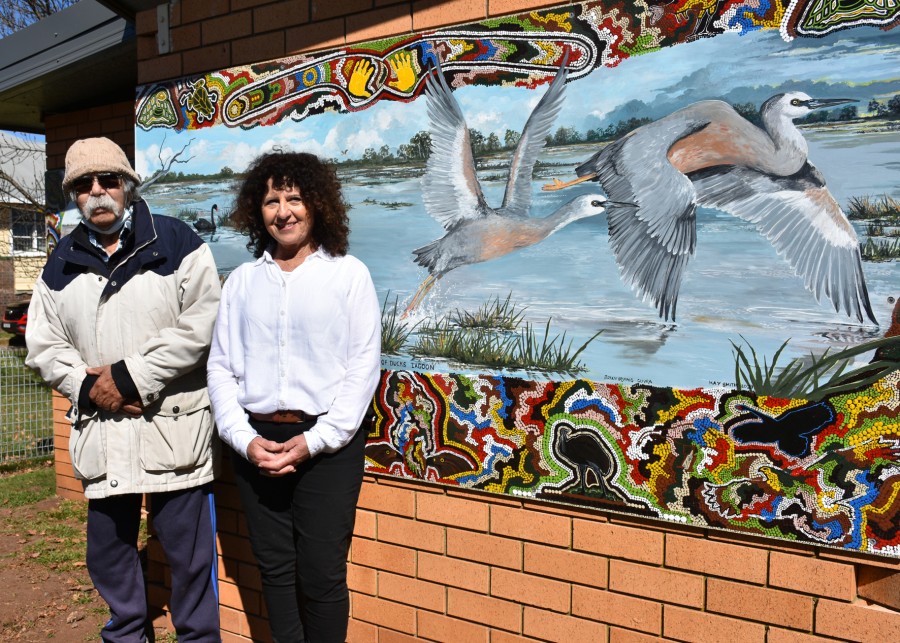 21st Sep 2021
In what is hoped will be the beginning of a series of public artworks throughout the Guyra CBD, a ceremony was held last week to unveil murals in Volunteer Park.
The artworks have transformed the amenities block, taking it from 'drab to fab' thanks to the talents of local artists Brian Irving and Kay Smith. They teamed up to complete a series of six murals depicting the Mother of Ducks Lagoon, which wrap around the building adding colour and interest.
Brian and Kay have previously worked together on two joint exhibitions. Their collaborative works have been extremely popular, combining the characteristics of Brian's Aboriginal Art with Kay's realist style. The murals were completed off-site before being mounted on the building.
The inspiration for the works came from designs submitted by students at Guyra Central School. In 2018, Brian and Kay led the students in a series of workshops to come up with designs that depicted the local area.
The student's original designs have also been included in a collage, acknowledging their efforts and talents.
Prior to the unveiling, Brian quipped that he thought they would 'knock the socks' off the town and that prediction came true.
The immediate reaction was full of superlatives – 'perfection, 'amazing', 'beautiful', brilliant', 'stunning' and 'fantastic' featured prominently following the big reveal.
The project was not without controversy and there was significant opposition to plans by Armidale Regional Council (ARC) to employ a Melbourne-based artist to complete the work.
Feedback showed that a local approach would be more in line with community expectations. ARC Mayor Ian Tiley acknowledged at the unveiling that council was forced to rethink plans in light of the negative feedback.
"Guyra rebelled against an edict from the top, so council agreed you could have the mural that you wanted," Cr Tiley said.
"The Chamber of Commerce came on board and sponsored a fresh application for funding from the Bushfire Community Recovery Resilience Fund, receiving $11,000 for this project."
"It speaks volumes about the people of Guyra that they didn't want any mural, they wanted their own particular mural.
"Thank you to a whole lot of people involved in making this happen," Cr Tiley concluded.
President of the Guyra and District Chamber of Commerce Steve Mepham said that the murals will be an added attraction for tourists.
He also thanked Donna Davidson and her team who worked behind the scenes to bring the project to fruition.
Special thanks goes to tradies Adam Hoffman, Jeremy Cox, and their teams who assisted with the preparation of the site and the installation of the murals.