UPDATED: Storm hits hard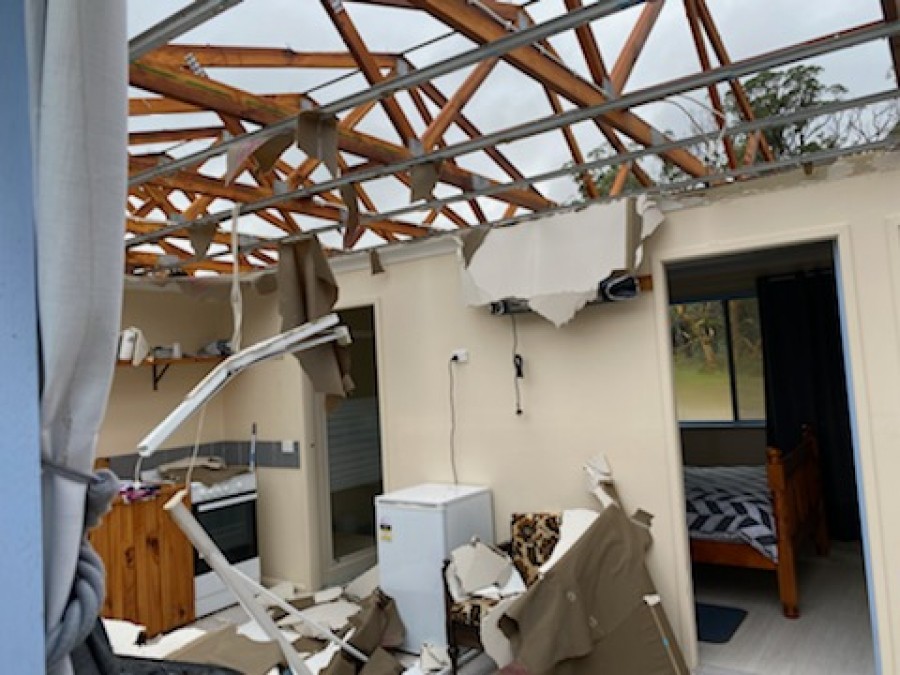 02nd Mar 2021
Janelle Stewart
A Guyra family is counting the cost after a devastating storm passed through on Thursday, February 25th. Described as like a tornado, the storm hit hard at Moredun Ponds Fish Farm, around 45km from Guyra in the Tenterden area.
Moredun Ponds has a long history and has been a popular place to visit since it was built up by AJ Youman over a 25-year period. He put his heart and soul into his little piece of paradise and was well known in the community. It holds great memories not only for his family, but also to many friends and locals. AJ passed away 5 years ago but his dream and memories of the farm continue thanks to partner Jo Davis, son Jamie and grandson Billy who still live on the farm.
They were at home when the storm came through at around 5.30 pm and were lucky to escape injury. The storm lasted just 15 minutes, but caused significant damage, with a total of ten buildings either damaged or destroyed. Strong winds lifted the roofing, allowing the rain that followed to inundate the buildings causing further damage.
Trees were also uprooted in the path of the storm, which was around ½ km wide. It has left the family with a massive repair bill which could be as high as $500,000. While the business was insured, it is unclear at this stage whether the damage bill will be covered.
The community has rallied to support the family and have organised a working bee for this Sunday to help clear the debris and begin with the rebuilding process.
A Go Fund Me page "Help Hog, Bill & Jo rebuild their homes" has been set up and has already raised $1650 of a $5000 target. https://au.gofundme.com/f/help-hog-bill-jo-rebuild-their-homes?qid=687f8c3f820bb21a3f368d459bef9a82
Organisers say that any small donation would be greatly appreciated to help get the fish farm back up and running.
An account has also been set up at the National Australia Bank in Guyra to accept donations and cash donations can be dropped into Dasha's Hardware.
If you want to help out with the working bee on Sunday bring whatever equipment you think might be useful and lend a hand.
Photos courtesy Britt Youman