Kayaks out exploring Malpas Dam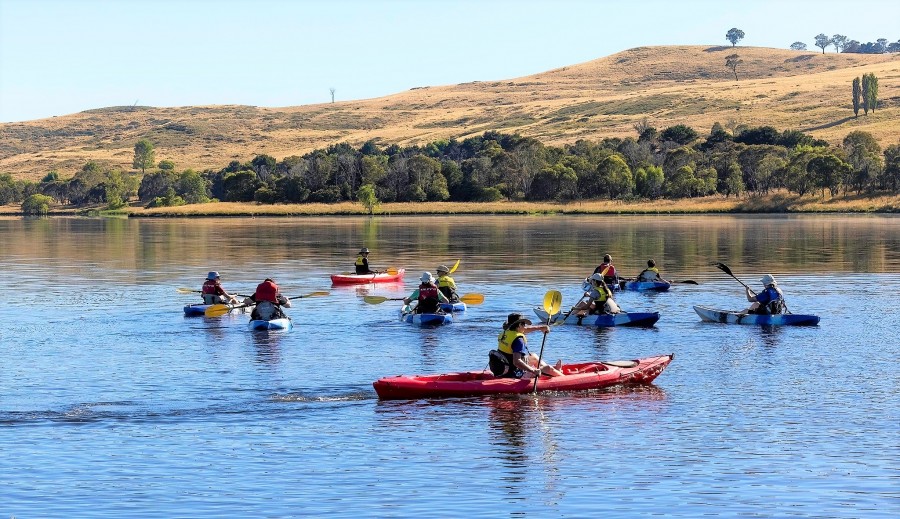 31st Jan 2023
Pathfinders and Joeys Adventure Tours delivered free Kayaking Tours during the January school holidays at Lake Inverell and Malpas Dam. The tours were available to young people aged 12 – 18 years and were made possible through funding by the NSW Government's Holiday Break Program.
Funding was provided to organisations and community groups to deliver school holiday activities in Regional NSW, to provide opportunities for youth to connect with others, socialise and have a great day out. Pathfinders held four free Kayaking events at Malpas Dam and also ran tours at Lake Inverell.
Heinrich Haussler, from Joeys Adventure Kayaking Tours, delivered the kayaking tours with Pathfinders staff. The tour participants were a mixture of Pathfinders clients and the general public.
Heinrich is based at Inverell and conducts regular tours on waterways throughout the region and also regularly travels overseas on kayak adventures. He believes that getting out on the water can have a positive impact and allow young people to connect with nature.
"Getting out on the water is always a great opportunity to experience the environment in a different way to land based adventures," he said.
"At Malpas we ventured across the dam and into the river and fortunately I was able to show the tour participants a variety of wildlife and trees."
"Being on a kayak you get to appreciate the serenity which is a wonderful experience and even though most of the kids hadn't done it before they took to it like a fish to the water. It was a very different experience for them to get out and away from screens and I'm sure that it gave them something to think about."
Members of the public will have another opportunity to get out on the water next week. Heinrich will be conducting two tours in conjunction with Northern Tablelands Local Land Services (LLS). He will be joined by ecologist, Alex Dudley and LLS staff Andrew Walsh and Ivan Lackay for a guided Kayak tour of Malpas Dam.
This is a unique opportunity to explore the wildlife and ecology of Malpas Dam whilst learning about how land managers can help to protect and improve water quality and the aquatic environment.
All equipment will be provided including kayaks and lunch. Participants are asked to bring a water bottle, wear a sun hat and appropriate clothing.
Please note that numbers are strictly limited, and RSVP is essential. For more information and to RSVP Ivan Lackay 0455 031 598 to leave your name and contact details.