Garden makeover about to get underway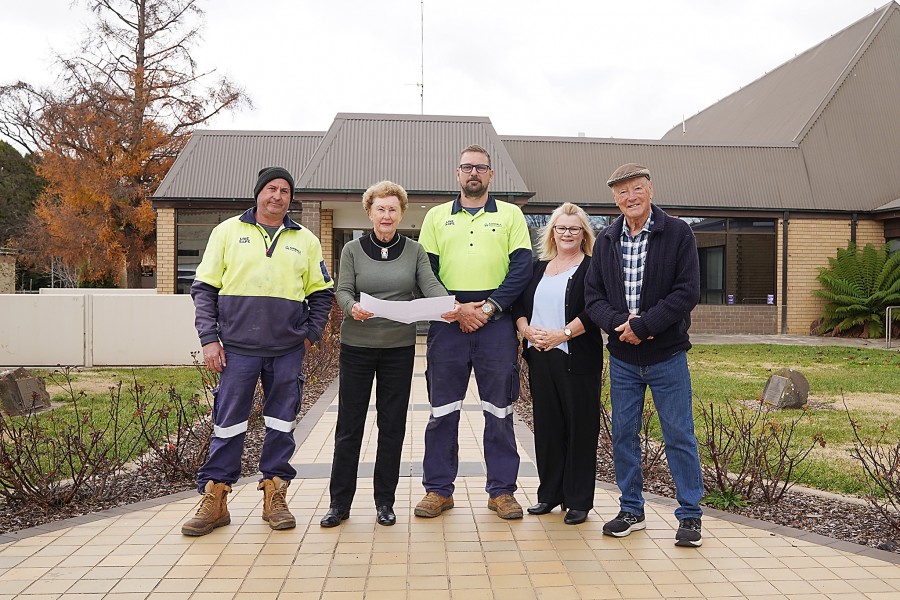 21st Jun 2023
The gardens of the Guyra Civic Administration Building will soon receive a fresh makeover thanks to a project initiated by the Guyra and Community Progress Association (GCPA) to improve the beautification of Bradley Street.
Council's parks team is collaborating with the GCPA to extend the gardens and upgrade some of the landscaping to include the removal of some large shrubs, relocation of the roses and the introduction of perennial borders, spring bulbs and a new hydrangea garden along the southern wall of the civic administration building.
Member of the GCPA Barbara Ross has assisted the parks team on a landscaping theme that will thrive in the Guyra climate.
"This has been a wonderful collaboration with council who continue to demonstrate their commitment to working with community groups in Guyra to improve amenities and the beautification of the town," said Barbara.
"I am excited about this project that will extend the already lovely gardens in and around the precinct that also includes the Guyra Neighbourhood Centre.
"The removal of the large shrubs at the front of the building will make way for small trees that will provide spring flowers and good autumn colour.
"Sadly the old roses along the path will be removed and replaced with a perennial border and spring bulbs as they have become quite woody and their thorns pose a threat to small children."
Guyra residents have fond memories of the roses leading into the building, but rest assured the roses will be dug up, and if suitable for transplanting offered to the community.
If anyone would like a rose please visit council's customer service team at the Guyra office and put your name down for collection when removed in July.
Armidale Mayor Sam Coupland said the GCPA is continuing to do great things for the Guyra community and our collaboration with members is strong.
"The GCPA is a great example of the community putting their hand up to make things happen and share their passion for the Guyra region," said mayor Coupland.
"Council will continue to support the GCPA and any other Guyra community group that is committed to enhancing and beautifying the town and surrounding villages."
Visitors to the library and the council offices will also experience an improvement to the existing path to the building that can be slippery and will also undergo improvements for safety.