$234,500 for final stage of Men's Shed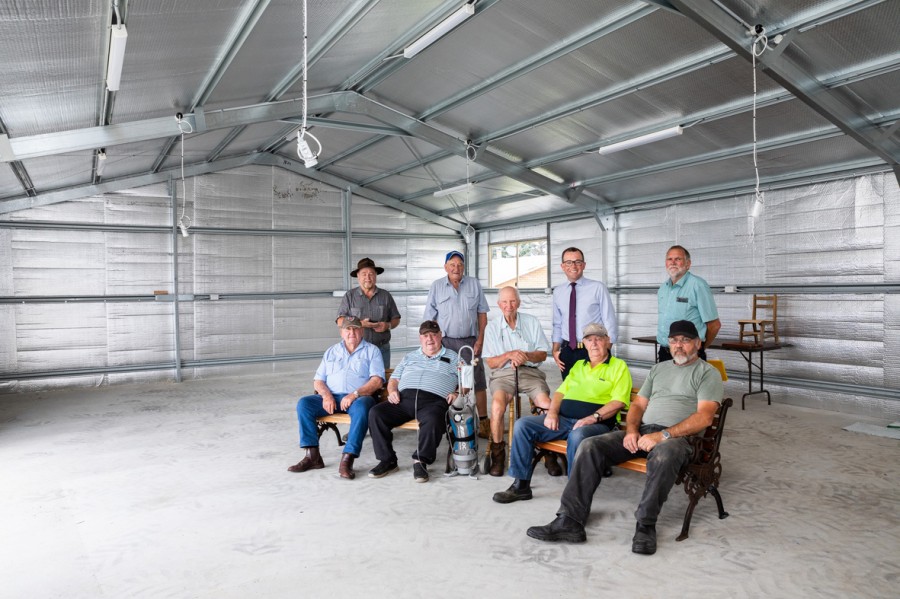 29th Mar 2022
The Guyra Men's Shed has received a further $234,500 in State Government funding to complete the final stage of the refurbishment and expansion of its new home – the former Guyra SES building behind the old courthouse.
Funding was provided through a $1.62 million State Government COVID-19 stimulus program, partnering with the Australian Men's Shed Association of Australia. The funding will be used to construct additional storage space and accessible amenities.
Northern Tablelands MP Adam Marshall visited the shed to announce the funding and said the new facilities are outstanding and will do much to support the health and wellbeing of Guyra's 'retired blokes and tinkerers'.
"Twelve months after moving into the former SES footprint, the finishing touches are being put on a new shed which will house the organisation's monster collection of tools and machinery," Mr Marshall said.
"There remains a lack of space to store materials and projects and so an additional shed will be built, along with connecting pathways and disabled compliant railings.
"A fully compliant disabled access amenities block will be built so that members have access to use basic bathroom facilities while attending the shed and participating in activities.
Guyra Adult Learning Association (GALA) oversees the running of the Men's Shed and GALA President Campbell Wolfenden said the new facilities would make it possible to expand programs offered on site.
"This expansion will create new opportunities to hopefully open up a wider range of activities, including those of interest to local women," Mr Wolfenden said.
"There has been a call for a space for women to meet and do things like painting, pottery and all kinds of other programs.
"More and more Men's Sheds are opening up to this kind of activity, but to do this we really need to develop more acceptable amenities.".
Guyra Men's Shed President John Jackson said the new amenities will be a huge comfort to those who come to the shed for several hours, three days per week.
"It has always been a concern should anyone urgently need the bathroom they would have to dash for home," Mr Jackson said. "Currently there are around a dozen men working regularly on site.
"With excitement building in the community as the current extension nears completion we have had another dozen men drop in over the past two weeks to have a look and express interest in joining the Shed which is great to see - we certainly have plenty of work on the books for them to do."
The initial relocation and expansion was funded by $100,000 through the Australian Governments Local Roads and Community Infrastructure Program (LRCI) and a $25,000 Bushfire Recovery Grant