Next generation of learners begin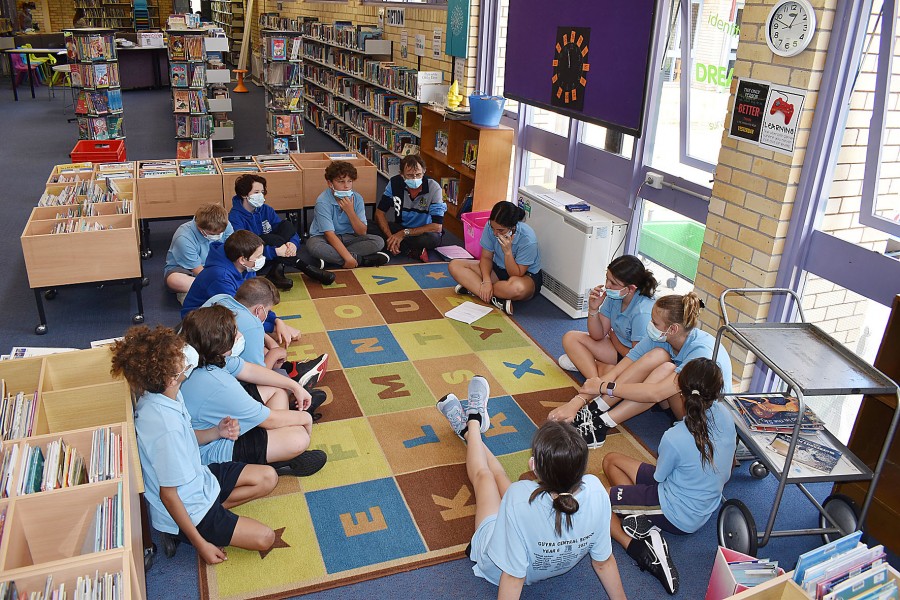 08th Feb 2022
The next generation of learners commenced their educational journey at Guyra Central School on Friday, 4th February 2022. All students had a positive start, engaging well with their peers and teachers. Mrs Sjaan Mitchell, Assistant Principal and Kindergarten 2022 classroom teacher, has been waiting for this day to arrive. Have a great year Kindy!
Starting high school is a big milestone, it is also an exciting time with many opportunities and a broader curriculum. Ms Tracey Condrick, Year 7 Year Advisor, is pleased with how well Year 7 is settling into their Secondary Schooling. Thank you Ms. Condrick and to Ms. Meagan Vidler, AP/HT Year 6-7 Transition and Mr. Stephen Alletsee for their care and support to ensure that our students enjoy a successful start to 2022. This week our Year 11 Peer Support team have been working with Year 7 students, discussing who can support the students during their transition into high school, and what they are looking forward to and hoping to achieve during their Secondary education. Thank you to all members of Year 11 Peer Support Group for helping Year 7 adjust to the new routines and expectations of high school.
This year our Transition to Kindergarten program will run for the whole of 2022. Students will attend on a Tuesday, commencing on Tuesday 8th February 2022. Thank you to the families who have elected to send their children along to this important play-based learning and socialisation program. We currently have very few spaces left in the class. Please call Guyra Central School Office – (02) 67790844 if you would like to enrol your child into our 2022 Transition to Kindergarten program.
Congratulations to Dean Rumbel and Thomas Ward, Year 5 2022 Guyra Central School students. Dean and Thomas, along with other GCS students, participated in the Aurora Year 5 Opportunity Class examination in the final weeks of 2021.
Dean and Thomas have been selected to join other Rural and Remote students, from across NSW, in the Year 5 Aurora Opportunity Virtual Classroom. Aurora provides a mix of online and residential school classes. Students connect with their teachers and classmates in timetabled lessons through a virtual learning environment, which comprises web conferencing software, a learning management system, and a range of cutting-edge online communication and collaboration tools.
The school also operates one of the state's first fully digital school libraries. Good luck and thank you to all students who put their hand up for this great opportunity. Guyra Central School has partnered with Aurora College for a few years now and we currently also have a Year 8 and Year 11 student undertaking a blended learning pathway with Guyra/Aurora College.
Principal
Michelle Nicholson