What's Brew'n in Guyra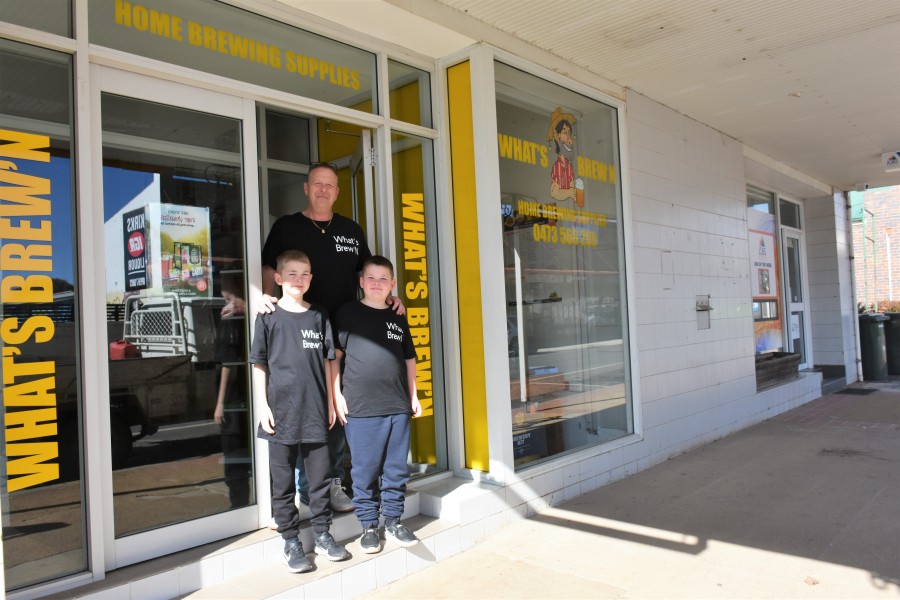 12th Jul 2022
Neil Fereday has done something that people often dream about – he has turned his hobby into a business. Originally from the western suburbs of Sydney, Neil and wife Danielle made the move to the country because they wanted to raise their kids on acres and it is a decision they have never regretted.
As someone who always wanted to open his own business it was COVID 19 that sparked a new interest and led to this latest venture.
To fill in time while in lockdown, he started home brewing after Danielle bought him a kit as a present. He has not looked back and it quickly became a passion which led to the opening of 'What's Brew'n', Guyra's newest business.
Since opening the doors to his home brew supply shop in early April, Neil has enjoyed great support from the community and already has plans to add BBQ supplies to the business.
"I loved what I was doing and also knew that there were lots of people out there with similar interests," Neil said.
"Everyone I talked to knew someone who had tried it in the past or had a kit in the shed that were no longer using.
"Getting supplies locally was not easy, having to travel to Inverell or Tamworth which were the closest stores.
"When this shop became available I jumped at the chance to start my own.
"What I want to do is reignite that interest that people have had in the past and share the passion that I have brewing.
"Initially I expected the biggest seller to be beer, but have been surprised to see that there is more interest in distilling spirits and that accounts for about 65% of sales.
"I have had great support from customers so far and already have a few regulars and the feedback has been great.
"What I really love about this town is that everyone supports each other and are willing to help out which I really appreciate.
"It is not easy starting a new business but lots of people helped out. In particular, I would like to thank Danielle Fereday, Anna Guerrini, Jacob Onslow and Daniel Kempton for everything they have done."
'What's Brew'n' is located in Bradley St, opposite Kirk's IGA. It is open Monday to Friday from 9am to 5pm and Saturday 10am to 2pm.