TroutFest Fishing Clinic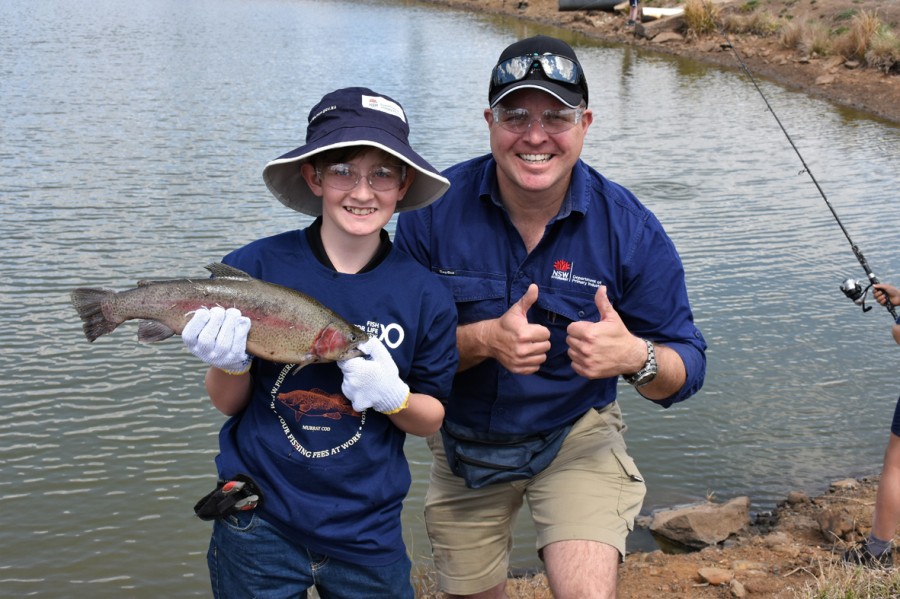 04th Oct 2019
Janelle Stewart
Twenty-four excited kids were the first to get their feet wet at this year's Guyra TroutFest. They travelled from as far afield as Coffs Harbour, Walcha, Armidale and the local area to take part in the Kid's Fishing Workshop. The clinic is run by the Department of Primary Industries with the help of Fishcare volunteers.
The kids spent the morning learning how to fish safely and responsibly and they were also taught correct fishing techniques, bag and size limits, and fish handling for best release techniques.
Following lunch, they were able to put their lessons into practice at the dam on the Golf Course which had been stocked just for the occasion. Despite their best efforts, only two fish took the bait.
Alex Brady from Armidale caught his first trout which he said was 'awesome'. He plans to take it home and is hoping to eat it for dinner. Alex is a keen angler who came to the clinic to have some fun and learn a few things.
Tomas Dwyer from Armidale caught the only other fish and he said it was 'pretty good' to pull one in. He said he enjoyed learning the proper way to catch a trout.
With only two fish caught by the kids, there are still 43 in the dam waiting to be caught. Festival coordinator Lynne Chapman said that anyone wanting to try their luck over the weekend is more than welcome to throw their lines in the dam.
TroutFest continues tomorrow with the Market Day at the Bowling Club and the Art Expo and Quilt Display at the RSL Hall. There will also be tours of the Museum and the Arcadia Theatre and Burgess Garage will be open for car enthusiasts.
Sunday will see the Car Boot sale at the Bowling Club and tours of Deano's Springwater Trout farm at Black Mountain. There will be entertainment at the Bowling Club on Saturday night and Guyra Hotel on Sunday.