Leading citizens honoured on Australia Day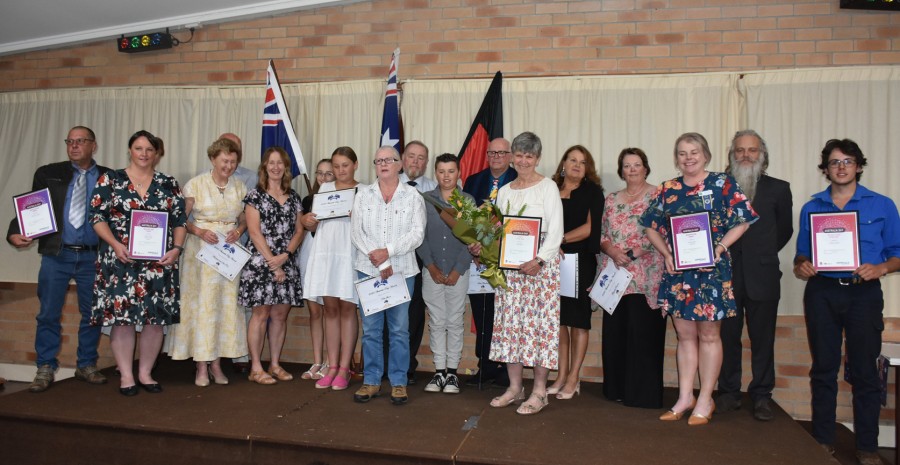 31st Jan 2023
Long-standing community leaders and volunteers have been recognised at this year's Australia Day ceremony with Beth White honoured as Guyra's Citizen of the Year for 2023. There was a strong field of candidates for this year's award with seven nominations.
Beth is a stand-out member of the local community through her extensive volunteer work and significant contribution to the Guyra and Ben Lomond communities. She has spent decades volunteering in leading roles, including Chairperson of Ben Lomond Landcare Group, Board member of Rural Lands Protection Board, Member of Ben Lomond War Memorial Trust, Editor of Altitude Living, P&C Member Ben Lomond Public School, Volunteer of ADRA Op Shop Guyra, Volunteer at Guyra History Museum, Secretary of R.E.D.D New England and an active community member of the Presbyterian Church.
Gwyneth Pearson was runner up in the Citizen of the Year category. Gwyn has been a key member of the Guyra Show Society and the Guyra community for many years through involvement at Bald Blair School, Guyra Central School and the school P&C association. Gwyn has helped with junior and senior cricket, rural fire services and the Lamb and Potato Festival for a number of years by assisting with fund raising, canteen, cooking and in many other areas. Other nominees in this category were Kim Shone, Donna Davidson, Peter King, Paul Kliendienst, and Dr Thampapillai Jeyakumar.
Armidale Regional Council Mayor Sam Coupland was joined by this year's Australia Day Ambassador, Jarrod Wheatley, Member for Northern Tablelands Adam Marshall, ARC General Manager James Roncon and ARC Deputy Mayor Todd Redwood to present the awards.
Other award winners:
Community Services Award: Tony and Liz Looker– Tony and Liz Looker have supported the Westpac
Rescue Helicopter Service by raising funds and participating in the Drovers Run 4WD Outback Adventure fundraisers. In 2022 the Run raised $225,000 and Tony and Liz were the highest fundraisers with the amount that they raised being $40,400.72. This amount was raised by donated lamb, auctions and raffles. Tony and Liz personally fund the Run in order for all donations to go directly to the Westpac Rescue Helicopter Service.
Continued page 2>>>
>>> from page 1
Community Services Award (Runner Up):– Leanne Mayled - Leanne has raised over $28,000 for the Westpac helicopter for the Guyra community and is involved with the Ride for the Chopper Bike event. Leanne also raised money for Guyra Cycling from the Guyra community for the annual Tour De Rocks cancer fundraiser event raising over $10,000. The nominee said, "Leanne's energy and commitment are incredible".
Young citizen of the Year Award: Michael Looker– Michael, aged 17 years, has served the community well as School Captain at Guyra Central School and supporting P&C fund raising activities. He has been involved with the Guyra Show Society for many years, by volunteering as Assistant Stewart in the Fruit and Vegetable stand and exhibiting with success. Michael is an excellent role model inside and outside of the school and a privilege to know and have assist the Guyra Show Society.
Art and Culture Award
(Joint Winners): St Mary's of the Angels School and James Warren–
St Mary of the Angels School hosted their Creative Arts Performance evening in November 2022 and the evening was enjoyed by the wider community at the Bill Wicks Memorial Gymnasium. It was an outstanding example of creative arts in the Guyra community, showcasing the emerging talents of their students through performances of song, dance and poetry recitals. Kindergarten stole the show by performing their song in both spoken word and Auslan. The Year 5/6 class composed, produced and performed their play.
James Warren moved to Guyra a few years ago. He has embraced all it is to be "Guyra". His efforts to engage with the community through his poetry, events and the Craft and Farmers Market. He is an active member in a number of committee's and organisations including but not limited to: Guyra Chamber of Commerce, Guyra & Communities Progress Association and Guyra Neighbourhood Centre.
Community Event of the Year: Rural Women's Gathering– The Rural Women's Gathering was held at the Ben Lomond Hall on the 14 October 2022 and brought women together from the local community and also across the state. It was an opportunity to hear from inspiring women on rural issues impacting women and was a well-planned and well attended event. The speakers included the Hon. Bronnie Taylor, Minister for Regional Health and Mental Health, Gail Commens, the South Pacific Area President of the Associated Country Women of the World and Ellie Mitchell who is a Guyra Central High School student and recipient of the Guyra C.W.A Evening Branch's scholarship.