1969 - A victory to remember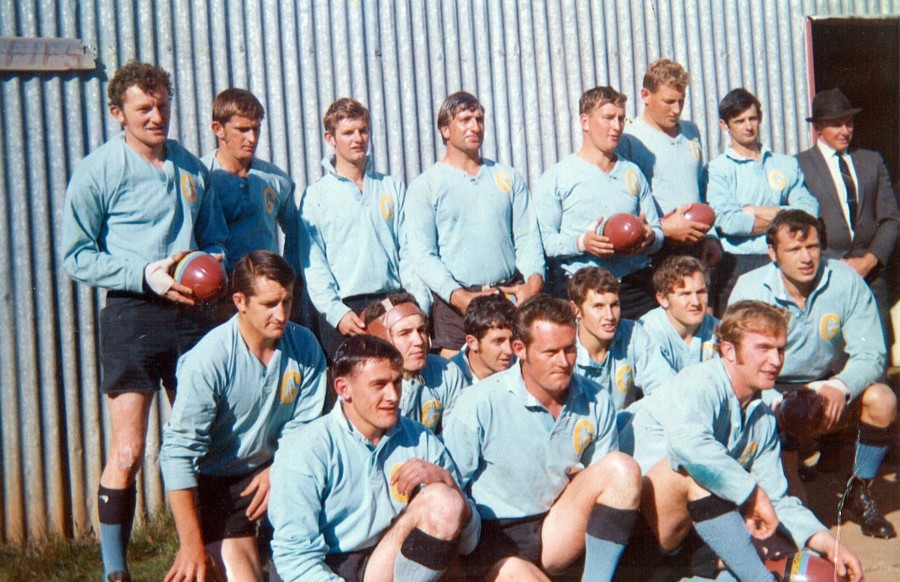 25th Sep 2019
On September 28th it will be 50 years since the Guyra Rugby League team won the 1969 Group 5 grand-final against Warialda. It is a victory that remains in the minds of those who witnessed it as one of Guyra's greatest sporting moments.
It was the first time that Guyra had won an A Grade Group 5 premiership and it was also the first time that the grand final was played in the town. An estimated crowd of 4500 attended the game and the following week the Guyra Guardian dedicated both its front and back pages to the victory. Under the headline 'THEY WERE MUCH TOO GOOD" the report opened with the following words.
'Guyra had a magnificent triumph on Sunday in taking out the Group Five Major Premiership. Never in memory has a grand-final been won in such convincing manner."
The captain of that team Barry Wood says that he can remember the game like it was yesterday.
"Not only can I remember the grand final game from 1969, I can also remember the last game of the season on our ground when we had to beat Moree to become minor premiers," Barry said. "If we lost and Warialda won we would have finished second.
"There was a big crowd longing for us to win and with only about 10 minutes to go someone shouted 'Woods'y, Warialda lost' and even though we were leading 10 nil at the time it was a relief."
The following week, again in front of a big crowd, Guyra played Warialda at home to see which team would make it through to the grand final and to the delight of players and fans it was Guyra who made it through. Warialda beat Glen Innes in the final the following week setting up a decider between Guyra and Warialda.
"We knew it was Warialda's highly respected player-coach Jim Payne's last game and his team would love to see him finish his playing days with another grand final victory," Barry said. "On the day of the grand final, it was very hot which favoured our opponents, but on a day that will always remain with everyone who played that day, we got the win."
"I cannot remember how many people watched the game, but as they say it was packed out," he said. "The fans were fantastic and the atmosphere that evening in both public houses and the Bowling Club was a night to remember for everyone involved."
"I would like to add that I have great respect for the players and committee who gave me so much support. The players never complained about anything, be it training on very cold evenings or training three nights a week when I thought it necessary."
For the record, Guyra won 20 to 7 with Gary Dowdell scoring three tries, and Barry Woods one try. Ron Starr kicked three goals and one field goal and was named the most outstanding player on the day.
Looking back - player's perspective on the season
No matter what the standard of football, the thrill of being in a winning Grand Final Team is something very special. 1969 was no exception. Right from the very first game of the season, the anticipation of supporters created an excitement that was infectious, and as the season progressed with a winning team, more and more supporters came on board.
The players then felt a responsibility to perform well. Reg Campbell's regular column in the "Guyra Guardian" was also another motivator.
The team of 69's success was due to both coincidence and timing. Our team was supported by an extremely strong and respected committee led by president Phil Starr and secretary George McCanna.
The team included a group of five or six older players who had played in losing teams with Guyra for a few years, another five or six outstanding young players who had come straight out of juniors into A Grade, and in the middle of all this were four paid players from the UK who had the ability and enthusiasm to blend us all together and create a winning team.
Barry Wood our English Coach was absolutely fanatical on physical training and we reached a level of fitness we had never experienced before. The UK connection spent hours on bar stools over a few beers working out each player's individual talents to create a team that worked together, as well as following other newspaper reports on opposition teams.
As we look back on that great year we acknowledge all of the supporters and especially the committee that gave us the opportunities to play and memories to savour.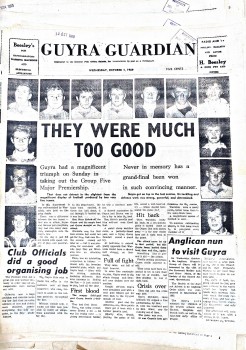 click for larger image