Memorial Park opening on Remembrance Day
31st Oct 2023
On Saturday November 11th, Guyra Garden Club, community organisations and members of the public will mark the completion of the three-year Guyra Memorial Park project with a morning tea, participation in the Remembrance Day service and a Park Walk.
The Park has been enhanced by planting an Avenue of Trees, by placement of Memorial Stones identifying service people lost overseas during World Wars 1 and 2, and by a Mandala Garden with a Rotunda in its centre.
The Rotunda has been funded by Guyra Country Women's Association and a new BBQ has been constructed by the Rotary Club of Guyra and Armidale Regional Council.
'It is a fitting day to declare open, for public use, reflection and enjoyment, the Club's Memorial Park project," President Guyra Garden Club Dr Sandra Welsman said.
"All citizens of Guyra and the region are invited to join the Remembrance Service and then join us for the Park Walk from 11.30am to 1pm.
"The Park Walk will include opening of the Rotary BBQ, and a stroll through the Memorial Avenue of Trees, to the ceremonial opening of the Memorial Stones and the Mandala Garden."
"It is also a day to thank our many community supporters, Armidale Regional Council plus our funding bodies, the Foundation for Rural and Regional Renewal 'Tackling Tough Times Together' program, and the Australian Department of Veterans' Affairs, 'Saluting Their Service' program."
Guyra Garden Club and associated community groups are especially pleased that this project substantially advances a 1951 resolution of the then Guyra Shire Council for a Memorial Park.
Speakers on the day will include Guyra Garden Club project managers, Rotary and CWA members, and leaders from Armidale Regional Council, plus this region's elected political representatives. The opening will also involve 30 Army, Navy and Airforce Cadets plus representatives of the Armidale based 12th/16th Hunter River Lancers and 24th Light Horse Museum.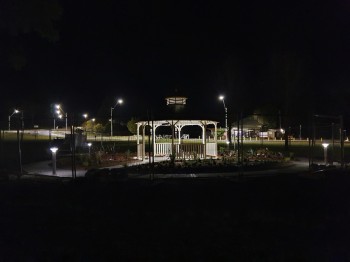 click for larger image