Role models, friends farewelled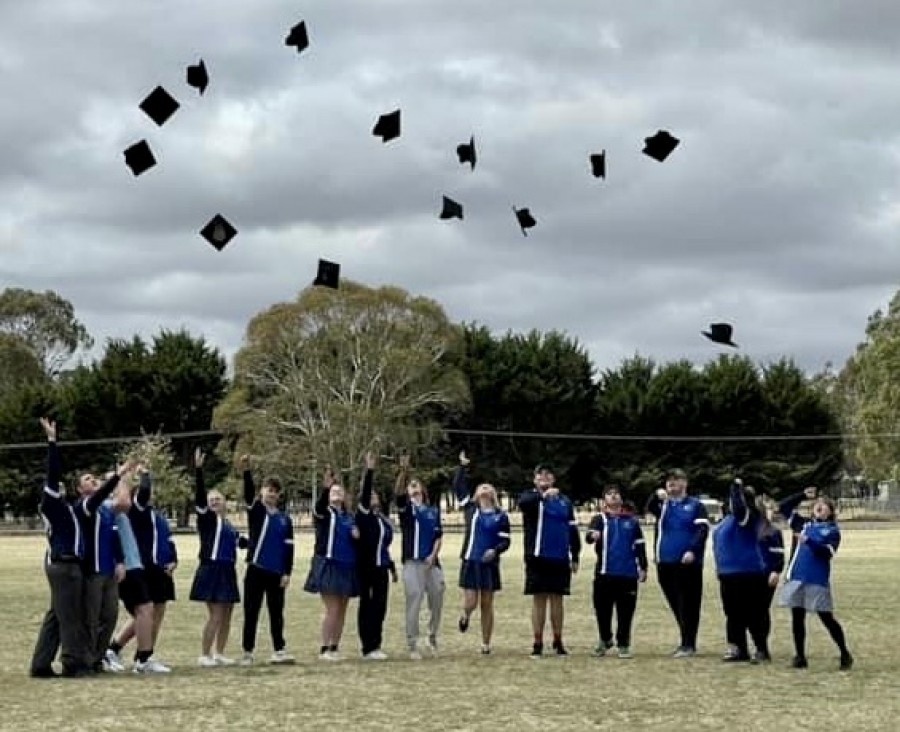 03rd Oct 2023
Guyra Central School farewelled the graduating Year 12 Class of 2023 on Friday September 22nd. The school's Valedictory day started with a traditional 'Year 12 Breakfast' hosted by the year 11 students.
The 'Class of 2023' were then farewelled and graduated during a fitting Valedictory Assembly. Students from years 7-11 spoke on behalf of their year groups about each of the graduating students with one common consensus - that the year 12 cohort were role models to their younger peers.
Year 12 advisor Mr Jeremy Galvin travelled back in time and took the assembly on a journey down memory lane sharing his experience with the leaving students.
As a parting gift , the Class of 2023 gifted cherry trees to the school, which will be planted near recently installed gym equipment. Each year the departing Year 12 students also select a recipient from years 7-10 to receive the 'Positive Recognition Shield' for their contribution to the school and community. This year's award went to Annabelle Collins.
The finale of the Valedictory was a video featuring each student's journey at Guyra Central School.
Parents were given the opportunity to contribute to the video and the school heard many messages from their proud families.
Every student's path has been different and they have each learnt in different ways and grown into independent learners.
Some of the students started their educational journey together at Guyra Central School 13 years ago, completing their first and last days of school at Guyra Central School.
A number of students
completed School Based
Apprenticeships or Traineeships, while other students challenged themselves and completed subjects by Distant Education as part of their Higher School Certificate
studies.
The school also saw Big Picture graduates for the first time among this year's cohort.
Guyra Central School would like to wish the Year 12 cohort all the best in preparation for their upcoming HSC final exams.