Community Garden Going Gangbusters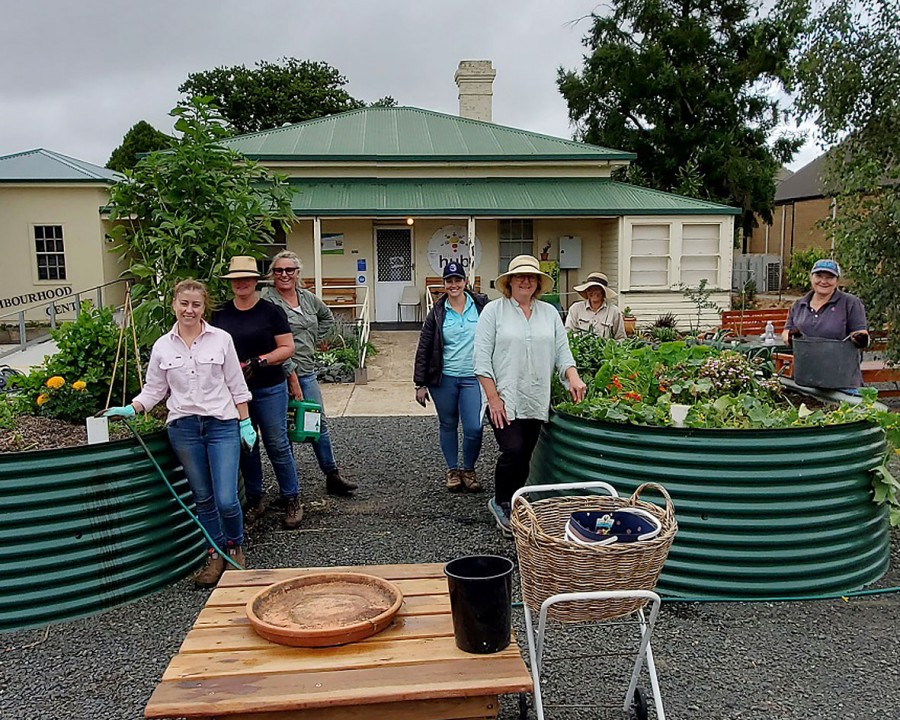 15th Mar 2022
On Saturday 12th February, a group of seven ladies gathered together for a working bee at the Guyra Community Garden, located at The Hub. They weeded, staked, sprayed, cut back and did a general tidy up in the garden, which has seen enormous growth since its inception last year.
Tina Skipper, who helped design and create the garden said that the season has been one in a million as far as rainfall, so it was all hands on deck to get the garden back into shape."
"It was a really fun morning of laughter, sharing of knowledge, cups of coffee and some hard work tossed in," Tina said. "We'll be getting together again in the next few weeks to mulch the garden beds with bark chips, in preparation for the Autumn/ Winter and I would encourage anyone who enjoys being outdoors and getting their hands dirty to come along and help out."
"You certainly don't have to be an experienced gardener, it's just a matter of more hands make light work," Tina added. "It's all about learning, contributing to your community and reaping the rewards of a beautiful and productive garden, and meeting new people."
Centre Manager of The Hub Sarah Hunt is keen for more people to become involved in the Community Garden.
"If you would like to be involved and volunteer an hour or two bi-monthly, we would love to hear from you," Sarah said. "Just pop your name and number down at The Hub and we will be in touch about our next gathering."
"And thank-you to those ladies who helped out recently. By maintaining the garden now we hope to provide a quiet sanctuary, a community meeting space, and a place for children and adults to learn about food and how it grows, well in the future," she added.
A reminder too, that everyone is welcome to help themselves to the produce grown in the garden. It is a Community Garden and open to all, so please feel free to take a few greens, berries, and herbs, they are there for us to enjoy as a community.