Drought breaking Show planned for 2020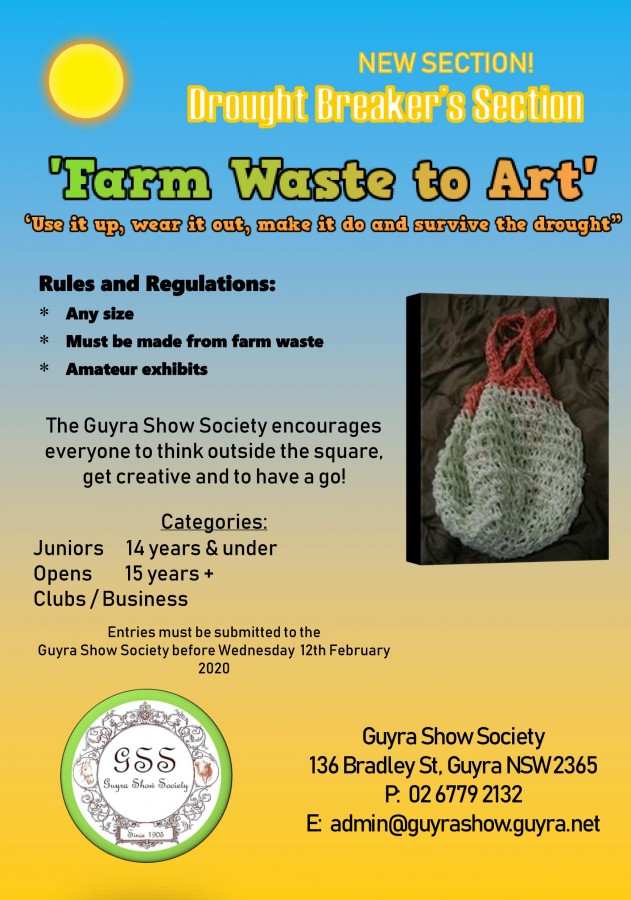 16th Oct 2019
Following on from a very successful 2019 Guyra Show, planning is now well underway for the 2020 Guyra Show which will take place on February 21st and 22nd. Some sections may not go ahead this year due to the reality of the drought, but the 112th Guyra Show will go ahead and promises to be bigger and better than last year.
Again the focus will be on making it a family-friendly show with a lot of free entertainment for the family to enjoy. The Roof Top Express will be back again with a brand new entertaining show on the Saturday night.
The Show Committee has included a new 'Drought Breaker' Section with a new art category theme "Farm Waste to Art" as well as a few other categories to be released later in the year. The Rules for the art category of the Drought Breaker Section are simple – it can be any size and it must be made from farm waste.
There will be categories for juniors (14 years & under) Opens (15 years +) and Clubs / Business
The Guyra Show Society is encouraging everyone to think outside the square, get creative and to have a go!
How about plaiting baling twine into placemats or a rope wreath or perhaps a butterfly from the plastic wrapping from hay bales or broken plough discs welded into a soccer ball or birdbath. There are plenty of options and no idea is a bad idea. There will be some great prizes to be won.
Men need to start preparing for the Men's Cake Competition. Rumour has it that Neil Paine (last year's winner) has started practising to ensure he upholds his title but working under the cover of darkness we have heard that our treasurer is also going to cook up a storm so watch out men and take up the challenge. Henry and Charlie have been trawling through their recipe books to find some 'Drought Breaking' recipes for their drought-breaking Guyra on a plate luncheon.
Don't forget to get your family membership to the show. In the meantime, for all those farmers who are short on water make sure you bring you soap and washing powder to the Showgrounds to use the showers and washing machines for free.