Northern Schools Prime Lamb Competition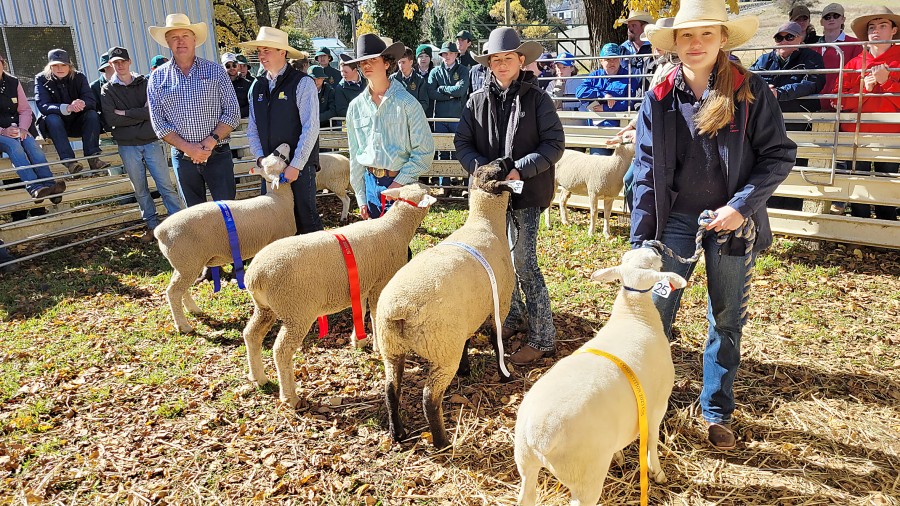 23rd May 2023
Guyra Central School (GCS) hosted the Annual Northern Schools Prime Lamb Competition at the Guyra Showgrounds on the 17th-19th May. Eleven schools, 260 students and 97 lambs competed in this excellent event.
The lambs were judged on the hoof by Andrew Jackson from Thomas Foods International (TFI) with Guyra Central achieving a Champion hoof for heavy weight lambs (pen of three) and a second place for single led lamb. These lambs were generously donated to the school by Warren and Gina Lockyer in February this year and were halter broken and led by Billy Lockyer.
Guyra students were also very successful on the day with their judging. Tyler Beard (Year 8) achieved a very Highly Commended award for his junior judging and Ellie Mitchell achieved 1st place in her senior student judging, with the highest score by a mile! Congratulations to both students and for the other students who reached the finals but did not place.
The competition was strongly supported by industry experts with workshops run by UNE Meat Scientist Dr Peter McGilchrist, Wool industry experts Angus Carter (Landmark Armidale), Hamish McLaren (Nerstane Merino Stud, Walcha), and Junior judging experts James Sharpe from Elders and Joe Van Eyk (Armidale). These were a high standard, extremely relevant and engaging group of workshops topped off with a fantastic talk on sheep judging by Andrew Jackson (TFI).
Several schools arrived the night before and braved the minus temperatures, taking part in the annual "Farmer's Challenge". Many thanks to Jason Eddy, Gwyn Pearson, Mara Grills and Justin Matthews for their support for this event.
Organiser of the event, GCS Agriculture teacher Rebecca Smith, said that events such as these are extremely valuable for students and do not happen without a great team effort.
"Acknowledgement must go to the fabulous volunteers from the Guyra Central School and Bald Blair Public School P&C's for catering and serving delicious meals to the school students throughout the event," Mrs Smith said. "Also we would like to thank Mark Werts and Armidale Regional Council for preparing the showground and for generously discounting camping fees for visiting schools.
"Thanks to Gwyn Pearson for her incredible support and input, and my fantastic colleagues for their assistance at the event and back at school. Special mention must be made of Mara Grills who has gone above and beyond in contributing to so many aspects of the event and in supporting our great school."
The event was also generously sponsored and supported by Guyra businesses, Elders, Nutrien, Ray White and Grazag. Guyra Central School thanks them very sincerely for their generosity.