Test drilling brings positive signs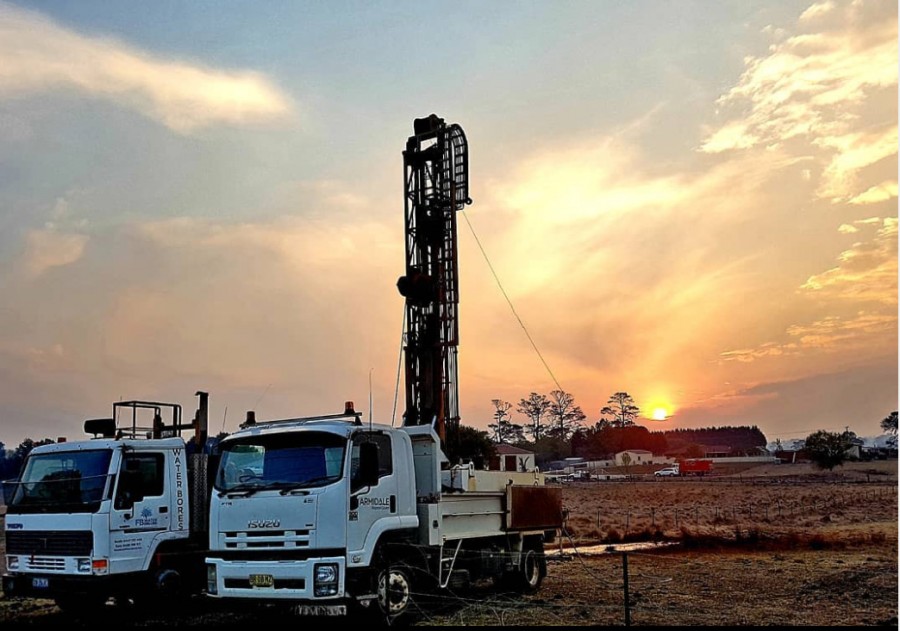 03rd Dec 2019
Initial drilling in the Guyra district has identified seven sites with strong potential to provide adequate quantity and quality of water to supplement the region's water supply.
The seven test bores - at the Guyra water treatment plant, next to the Guyra sports fields, Izzard Park, at the intersection of Sole Street and Guyra Road and three on Llangothlin Road – appear likely to meet the benchmark of providing five litres of water per second per bore.
Council will liaise with landholders near each of those sites, with contractors set to return in coming weeks to undertake further drilling and potentially begin the installation of bore equipment.
Armidale Regional Council Mayor Simon Murray said that public liaison may include monitoring existing bores nearby to reaffirm the ground water reserves being targeting are not linked to aquifers already being accessed by landholders.
"As planned, the test bores drilled so far have been substantially deeper than any existing bores in the area," Cr Murray said.
"We're looking at reserves much more than 100m underground, while the bores already in place are typically 30 to 40 metres deep."
If drilling for the town supply bores does encounter more shallow water reserves, capping sleeves will be used to seal off that shallower supply.
Council will keep landholders informed about those measures, enabling them to ask questions and assist with monitoring of adjacent bores.
Test drilling will continue with a site at the Guyra Showgrounds this week.
A second crew will this week begin test drilling at 16 sites in the Armidale town area, with work expected to take about three weeks.
Testing has been undertaken at 10 sites in rural areas surrounding Armidale, with five showing potential.
All 36 test sites in and around Guyra and Armidale are located close to existing infrastructure, so it may be relatively quick and cost-effective to connect them to the water distribution network.
Cr Murray said there was some urgency to get ground water supplies on line in Guyra, before levels in Malpas Dam drop below 30%.
"Once they reach that level, different equipment will have to be used to pump water into the Malpas Dam to Guyra pipeline and flow rates will be affected," he said.
"The dam level is now around 36%. There were insignificant increases in levels at the Malpas and Guyra dams as a result a last weekend's rain – just a fraction of a percentage – but at least it was the first week for quite some time that the level hasn't fallen."
He said while the successful bores that go into production will help extend the lives of the Malpas and Guyra dams, the most effective way to safeguard the town supplies is reducing water consumption.
"We all still need to continue the great work being done to maximise water savings," he said.
"We remain on Level 5 restrictions and with forecasts of a hot and dry summer, every effort is needed to save water and prolong remaining supplies until more substantial, drought-breaking rain hopefully arrives.