Gold record now part of museum collection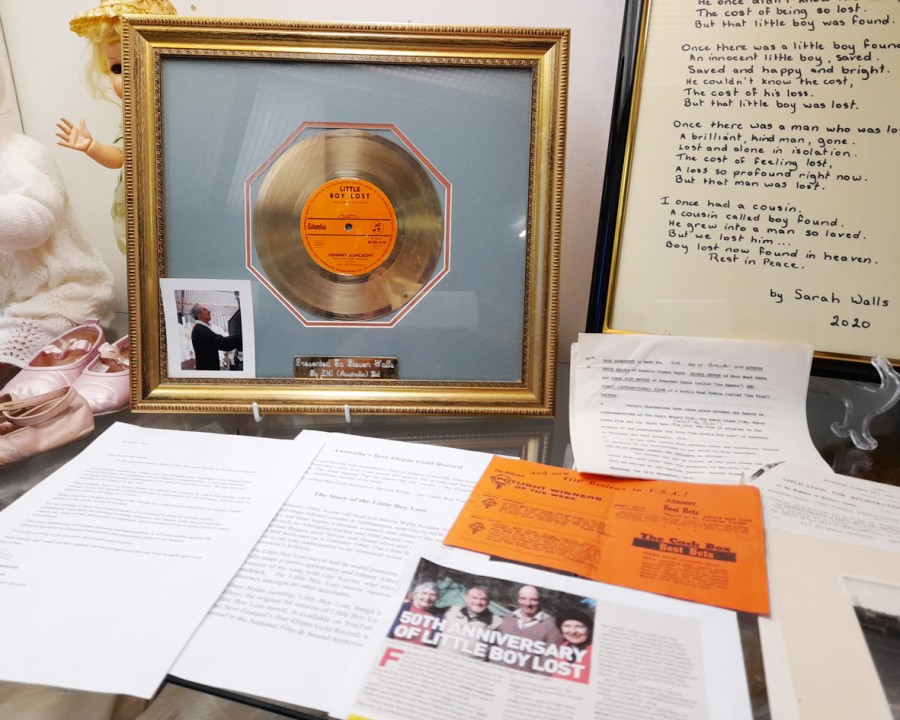 03rd Nov 2020
The story of Little Boy Lost still stirs memories of a time when Guyra made headlines as thousands searched the countryside for four days searching for four year old Steven Walls. In February 1960, more than 3000 people searched bushland around Tubbamurra after he became separated from his father while they were herding sheep on the family property.
The family of Steven, who passed away in April this year, have donated some of their personal memorabilia to the Guyra Historical Museum, adding to items already on display.
Singer Johnny Ashcroft penned Little Boy Lost, an emotional musical recounting of the search and it became the hit song of 1960. Among the items donated to the museum is a copy of the gold record for the song which was presented to Steven at Eggleston's newspaper shop in Guyra a couple of years after the event.
Steven's mother Dorrie said that they didn't get any royalities from the record, but what they did get was a true friend in Johnny Ashcroft and they kept in touch over the years.
"Over the years Johnny often called in to visit, and Steven and I also visited him at his home on the Gold Coast," she said.
"When Steven was lost we got cards from all over Australia and also all over the world and his passing brought back memories for a lot of people."
"When I thought I might have to move I was cleaning up and decided it was no use leaving them here and thought it would be nice to share with more people. As a family, we agreed it was something that was part of Guyra and should be somewhere where everyone else was able to see."
While the property has since been sold, Dorrie is pleased that she is able to stay on thanks to the generosity of the new owner. However, she said that she thought it was still time to hand over the memories.
As well as the record the family donated their own newspaper clippings, two photo albums and items they kept when a film of the story was made in 1978.The
donated items will be added to the existing collection of clippings already on display at the museum.
Visitors to Guyra can also see a display that is in place at the Guyra Caltex Truck Stop. Featuring details of the search and photographs, this display has proved popular. It is a great talking point among travellers who still have memories of that time or have heard stories over the years. This display is also in the process of being updated.