Ride for the Chopper passes through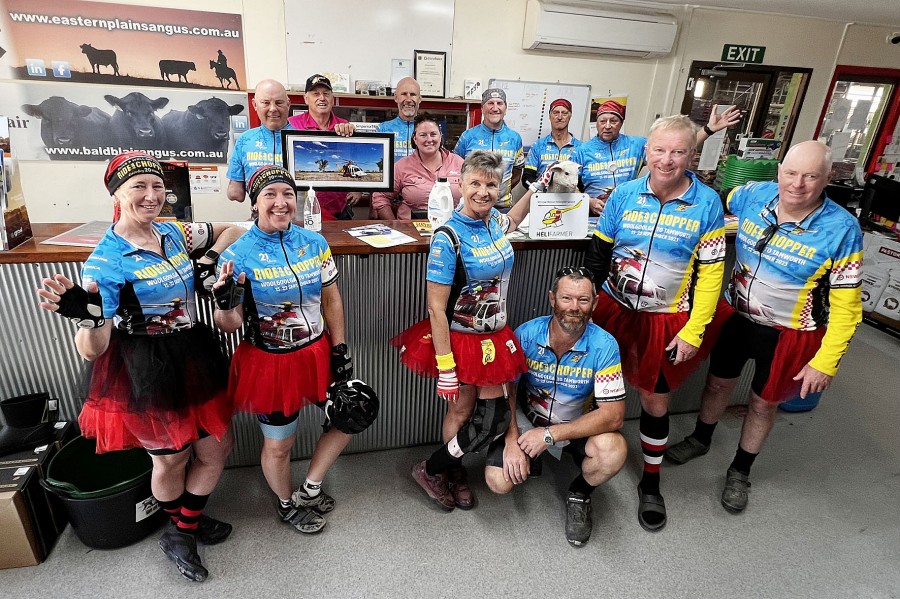 26th Sep 2023
The 2023 Ride for the Chopper has wrapped up, raising close to $90,000 for the Westpac Rescue Helicopter Service (WRHS).
The eight day mountain bike ride started in Woolgoolga on September 15 and stopped in Guyra, Armidale and Walcha before finishing up in Tamworth on Friday, September 22.
Forty riders, their support crew and two NSW Ambulance paramedics took part in the adventure.
Among the riders were Guyra cyclists Leanne Mayled (team captain) David Mills, Michael Kirk, Stuart Hutton, John Newsome, and Wayne Jenkyn. Team member Bill Perrottet was unable to take part due to an injury which he sustained just days before the ride.
It was a fantastic effort from the Guyra riders who have so far raised $23,000, with money still coming in.
For many of the team it was a very personal experience with family members having made use of the services provided by the WRHS in the past.
They are grateful for the support of the local community who assisted with their fundraising efforts. Major contributions came from local woolgrowers who donated fleeces for the cause, raising $9400 and a wood raffle which raised what is believed to be a record amount of $2300.
The team would like to thank the woolgrowers for their support of the wool drive and Elders who auctioned the wool without commission or fees and the Guyra Lions Club for the wood raffle. Also thank you to the many locals who made cash contributions and businesses that provided sponsorship and donations towards the ride.
It wasn't all hard work with themed ride days, games and activities. They made a stop at Bald Blair Public school on 'TuTu Tuesday', where they talked to the students about bike safety and accepted a donation from the school.
The riders also called in at Black Mountain Railway Station and would like to thank Dennis Wright for allowing them access to the platform. One of the highlights for the team was the dress up night, with Team Guyra getting a win for their very convincing portrayal of the Adam's family.
This year marked the 21st anniversary of the ride. Funds raise help to ensure the helicopter is available 24/7, 365 days a year for those in need and that no one has to pay for the service. The WRHS is 70% government funded, with the other 30% of funding coming from community fundraising such as the Ride for the Chopper, as well as sponsorship.