Community supporting community through Community Partnership Program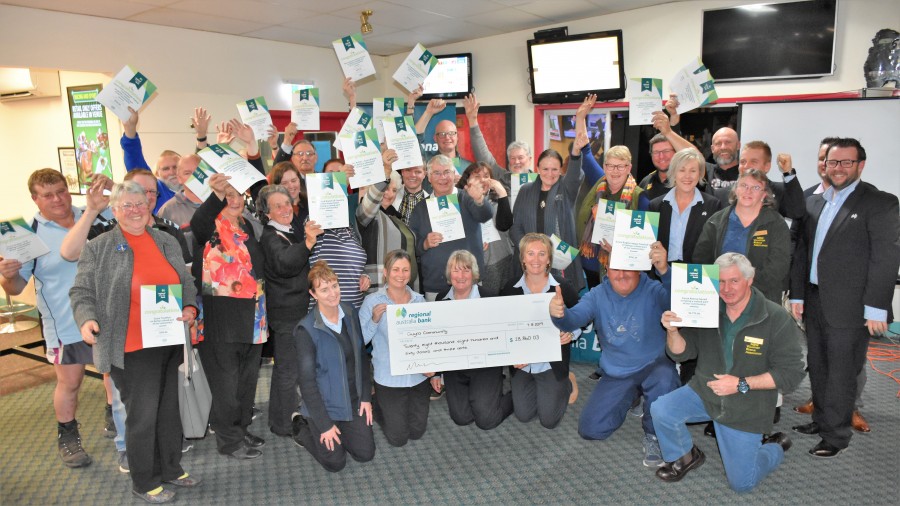 12th Aug 2019
Janelle Stewart
Community and sporting groups from Guyra have shared in $28,860.03 which was handed out by the Regional Australia Bank (RAB) last week. The funds come from the Community Partnership Program (CPP) which allows customers to support local organisations, with 1% of their accounts average balance allocated to the group they choose to support.
A presentation evening was held at the Guyra Bowling Club last week, to thank participating organisations and hand over this year's allocations.
Senior Branch Operations Manager for RAB Phil Williams praised the program which he said started from humble beginnings back in 2008-09 when they gave away a touch over $9000.
"Since then the growth has been amazing," Mr Williams told the gathering. "Last year we gave away just over a $1m across the branch network and this year we are giving back $1,248, 897.07.
"In Guyra last year we handed out $23 869.88 and this year $28,860.03 is being handed out to groups, thanks to over 1100 customers who support the program which is an amazing number for the size of the town."
"This wouldn't have been possible without the support of the community, and wouldn't have been possible without the support of the local Guyra staff, so thank you Kayla, Shona, Alysha and Cath," he said. "We want this program to continue to thrive and the more people we have banking with us in Guyra the more money we can give back to the community."
CPP coordinator for the Guyra Branch of RAB Kayla Hutton encouraged those present to spread the word about the program.
"Everybody has got a little bit more than they did last year so if you can keep spreading the word to your members and the community we can get even more next year," Kayla said. "The more people that bank with us and choose to be linked up with your group, the more money we can give back to the community."