Saleyard upgrades get go ahead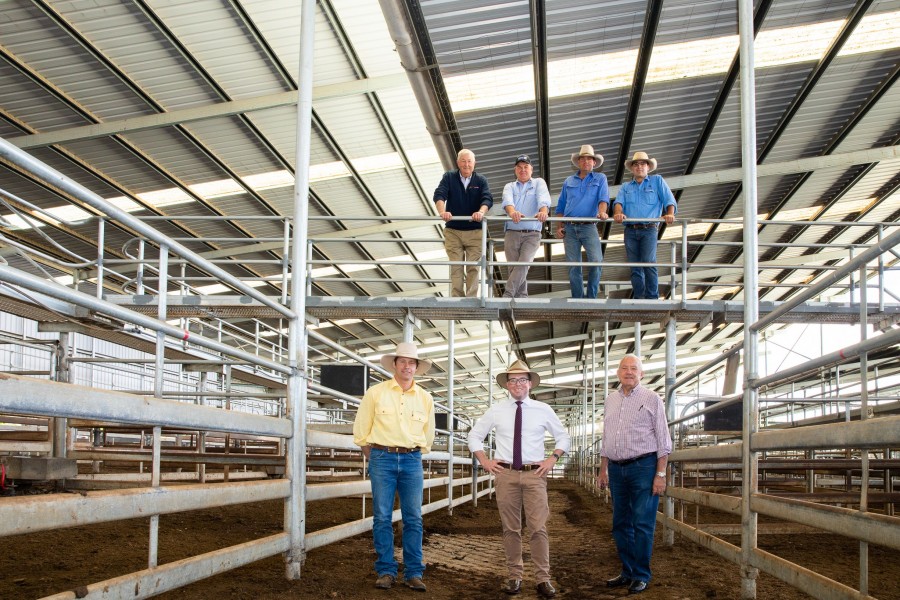 27th Oct 2020
Local agents have welcomed the announcement of $5 million funding towards a significant redevelopment of stock selling centres in both Guyra and Armidale. Member for Northern Tablelands and Minister for Agriculture Adam Marshall made the announcement on Monday joined by Interim Administrator Viv May and Sam Sewell, President of the New England Associated Agents (NEAA)
Armidale Regional Council submitted the funding application in collaboration with the NEAA and President Sam Sewell said the upgrade will mean that they will have the ability to attract stock from a wider area and increase the throughput at both saleyards.
"Volume is the major reason people come and we want to see that we can provide facilities that people are comfortable to sell their livestock in," he said. "It will attract stock from a wider community and the throughput will be greater, the employment will be greater and it will be a win for everyone in that respect."
It is estimated that Guyra and Armidale saleyards inject more than $72 million into the local economy each year, selling around 300,000 head of sheep and cattle on average every 12 months.
The Guyra Saleyards will remain the focus for sheep sales in the region. The upgrade will include replacement of timber sheep yards with steel, reconstruction of loading races, relocation of cattle yards, refurbishment and expansion to amenities and kiosk facilities, renew water supply and stock water troughs and improvements to internal and external access roads.
The Armidale Saleyards will continue to only manage cattle and includes replacement and extension of cattle holding yards, expansion of vehicle parking area, implementation of roof water harvesting and wash-down reuse, renewal of cattle weighing scales, refurbishment of amenities and offices and installation of solar panels.
Member for Northern Tablelands Adam Marshall said that increasing the holding capacity and improving access will make these yards some of the highest quality in northern NSW, attracting the best stock, biggest buyers and highest prices for farmers.
He acknowledged Armidale Regional Council and the New England Associated Agents for the plan they presented to the government.
"This is just the type of big picture infrastructure which both Armidale and Guyra needs to rebuild their drought, bushfire and COVID-19 effected economies," he said.
"By capitalising on both town's strengths in agriculture, these upgrades will ultimately result in new and greater opportunities to market livestock, facilitating the growing appetite for online selling.
Construction is expected to commence in the first quarter of 2021 with work completed by mid 2022.