What Living in Guyra has done for us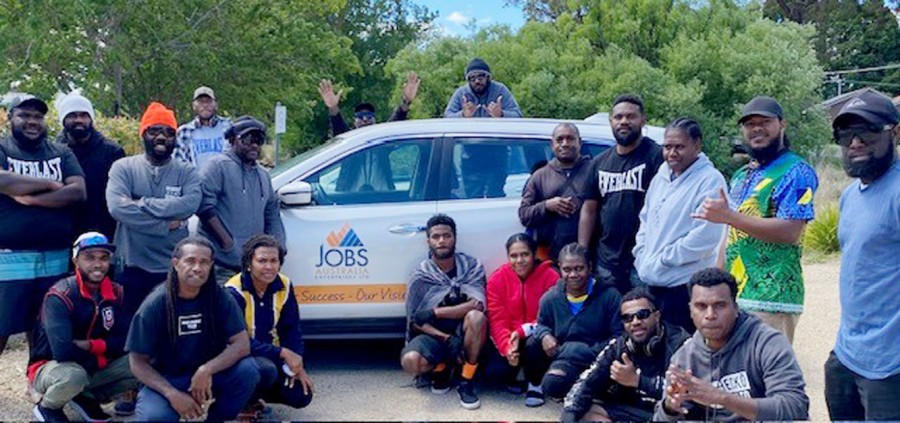 31st Oct 2023
Ronald, Keskie and Benoni are three of 120 Seasonal Workers currently living in Guyra who are employed by Jobs Australia. These boys come from Vanuatu and are here on a six-month rotation working at Costa Tomato Farm.
In recent discussions with Jobs Australia staff, the boys talked about what living in Guyra has done for them, the opportunities it has afforded them and their families back home and how truly grateful the are to be here.
It is such a small insight into the life and background of our seasonal workers who travel here from Tonga Vanuatu and the Solomon Islands who fondly call Guyra their home. So, we wanted to share their stories with the wider community.
Ronald's story
Everyone has a story, everyone has a background, a spiritual and cultural belief says Ronald who is on his third rotation, this time in Guyra.
Previously Ronald has worked for Jobs Australia in Victoria and Queensland. He has at home a wife and two children ages 10 and 3. Although being away from his family for long periods of time is hard, being here working has allowed Ronald to buy land in one of Port Villa's biggest villages Mele Maat. He has built his house in stages from money earned each rotation.
Ronald is the team leader of his group who arrived in June 2023, and they conducted a fundraiser over the weekend. The workers in his group feel they are more fortunate financially than others, so each worker contributed part of their weekly earnings to go to chosen charities back in Vanuatu.
Ronald and his team of workers raised over $1400 and have chosen to help the maternity ward in Port Vila where expectant mothers are forced to wait in the street when attending appointments. Ronald and his team hope to build a shelter to allow them to sit and wait to be seen in the hospital, as well they would like to give some money to children with disabilities in the islands where medical help and supplies are scarce.
Benoni's Story
Benoni also on his third rotation and leaves at home his wife and small daughter Keryana. Like Ronald, Benoni has in stages built his home and on this rotation is able to finish it so it enables him to have a fully functional kitchen. Benoni, when in Vanuatu, also runs a side business of his own, a small Nakamal which is a kava bar in the village of Mele.
"It has taken time, but it has been so worth it getting my home to a comfortable living standard, and somewhere to return after work in Australia. It gives me comfort to know my wife and daughter are safe there while I'm away."
"Being away from family has its challenges and when we are far from our children, we miss them terribly. We miss birthdays and milestones which we can only see in photos and by video chat.
"I made a promise to my sweet little girl when I was leaving Vanuatu, I promised her that I would speak to her every single day. So no matter where I am or what I'm doing, Keryana calls every night so I can sing her a song so she can sleep. I cherish this but I can't wait to go home and hug her too.
Keskie's story
Keskie has a bit of a different story and is here in Australia for his first time. He has recently faced adversity where he has lost his entire home last week during cyclone Lola. Keskie comes from the island of Malekula and has been trying to join the seasonal workers program for over 8 years. With so many people wishing to travel for seasonal work it has been really hard to enter the program.
Keskie has paid for a passport every year in hope he would get a chance to travel and was fortunate to be recruited by David Daniel at Paradise Workers in 2023 who sent him to Guyra.
Keskie has a wife and two children, and being here has afforded Keskie's children a secure education. Like all our workers from the islands, coming to Australia pays for school fees, it's the only thing that allows our children a high school education, where many kids leave school at an early stage as it is unaffordable. Some children are forced to work to earn an income for the family which means they aren't properly educated.
"Following last week's cyclone and losing my family home I will face many challenges returning home. Being here will allow me to earn money to start rebuilding but living on the Island, will have its challenges.
"Unlike Australia where materials are readily available, Port Vila is the only place where building materials can be sourced. To rebuild our home, I will need to purchase materials on the main land, have them couriered to the port, then shipped to the wharf on my island.
"I will then have to transport them to my land before being able to repair my home. Often in the islands, as building materials and equipment is so unobtainable, we often use bamboo, thatched roofing in place of modern material."