Charity in action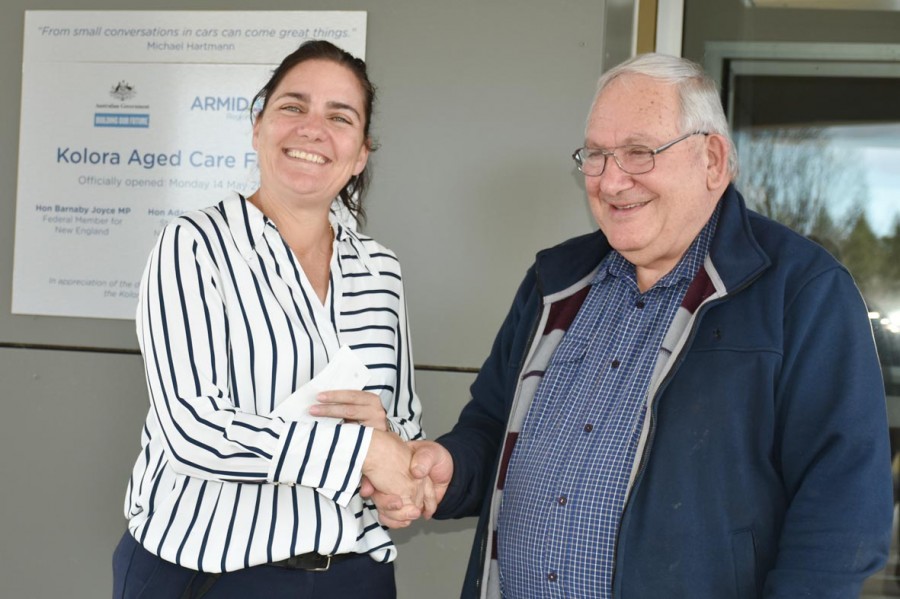 16th Oct 2019
The Freemasons and Lions have combined to provide much-needed equipment for residents at Guyra's Aged Care Facility. Last week they handed over a cheque for $4750 for an adjustable podiatrist chair which will allow easier treatment for residents.
The need for the chair was identified last year, when Jim Martin from Masonic Lodge Guyra No 325, was visiting a resident. He spoke with podiatrist, Susie Croaker who advised that while the newly constructed facility was excellent, it was difficult for her to attend resident's needs because of the lack of a suitable podiatrist chair. Investigations showed that a suitable chair, together with a chair for an operating podiatrist, would cost $4,750.
Jim brought the matter before a regular meeting of the Lodge which agreed to make it a charitable project of the Lodge. They already had available $1,000 as its share of funds raised by the Association of Freemasons of Armidale and District Incorporated, of which it is a member, and decided to approach the Grand Charity of the United Grand Lodge of New South Wales and the Australian Capital Territory, Masonicare, for further assistance.
Masonicare advised that if the Lodge could furnish $2,375, being half of the funds needed, it would be able to provide the other half on a dollar for dollar basis once the project was approved.
Discussions were held with Geoff Reeves and Jim Betts of the Guyra Lions Club. who agreed to provide $2,375. An application was then made to Masonicare with the result that it has been approved and a cheque for $4,750 was presented to Facility Manager Melissa Scott last week by the Worshipful Master of Lodge Guyra No. 325, Right Wor. Bill Hodder.
Due to the generosity of the Guyra Lions Club and Masonicare, Kolora will now be able to purchase the adjustable podiatry chair and an operator's chair. The $1,000 already held by the Lodge will also be presented to Kolora as an additional grant which can be used to purchase any additional essential equipment that may be needed.
Both Freemasonry and Lions are not only dedicated to assist those less fortunate than themselves but are committed to practice the greatest of all virtues, Charity. Should anyone seek to receive information about Freemasonry in Guyra, where it has been operating for one hundred and six years, please contact the Worshipful Master, Bill Hodder on 6779 1240. Lions can be contacted through the Club secretary at PO Box 118, Guyra. NSW. 2365.