Painting brings back fond memories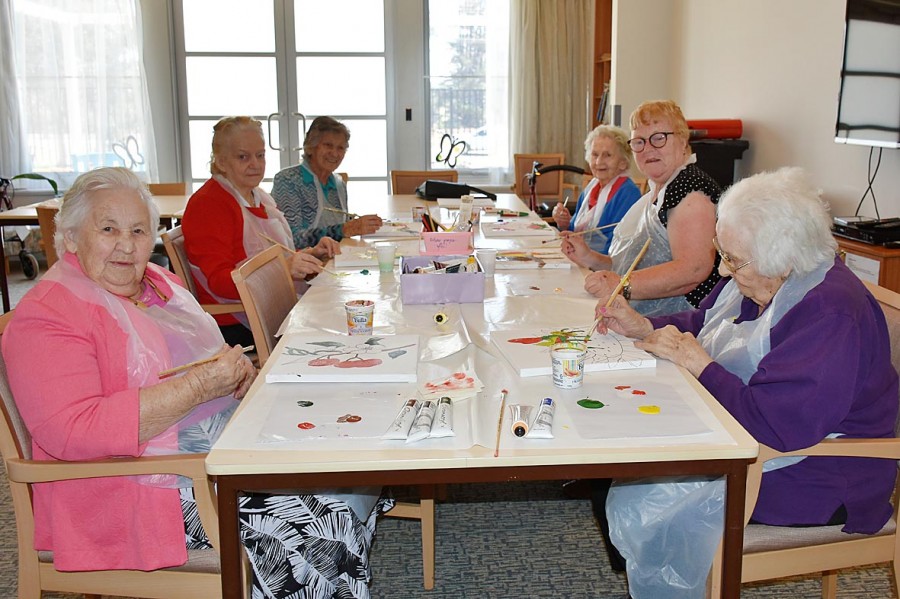 23rd Oct 2019
Janelle Stewart
Spring is in the air at McLean Care Kolora and
residents are participating in art activities which will bring colour and life to the facility. They were invited to put the finishing touches on a series of canvases which will join together to form a mural to adorn the walls.
The mural was designed by local artist Justin Dwyer who moved to Guyra in 2018 with partner Jayne. Justin was more than happy to design the Spring themed mural for Kolora residents to paint. Spread over a series of canvases, the residents were asked to put on the finishing touches.
They have been working on the canvases over recent weeks, adding colour and
revisiting an interest that many enjoyed during their younger days.
Activities officer Pat Turner said that painting has bought back many fond memories for the residents.
"Many of them used to paint in younger years and they are enjoying reliving memories," Pat said. "The inspiration comes from Spring and the finished product will join together to form a mural celebrating the season."
The art sessions are one of many activities which seeks to reconnect residents with activities that they are familiar with.
"We try to engage residents by sharing their interests and providing them with opportunities to explore things that they enjoy," Pat said. "It may be cooking or gardening, or jewellery making and we are always looking to extend the range of activities on offer."
Volunteers are on hand to assist with the activities, and Pat said they are always looking for more people who are willing to become involved. If you have a few hours to spare, and maybe a talent to share, contact Pat Turner at Kolora. She is hoping to provide more musical activities and is looking for anyone with a musical background who is willing to come in and assist.
Next week will see local school children join the residents for Grandparents Day. On Wednesday, October 30th, Kindergarten children from Guyra Central and St Marys will visit, bringing together the oldest and youngest members of our community. They will participate in a range of activities both inside and outside. Activities will include cooking and gardening as well as tabloid games. If anyone has any of the Woolworths Discovery Garden pots to spare, Kolora would be more than happy to take them off your hands.