Art Exhibition branches out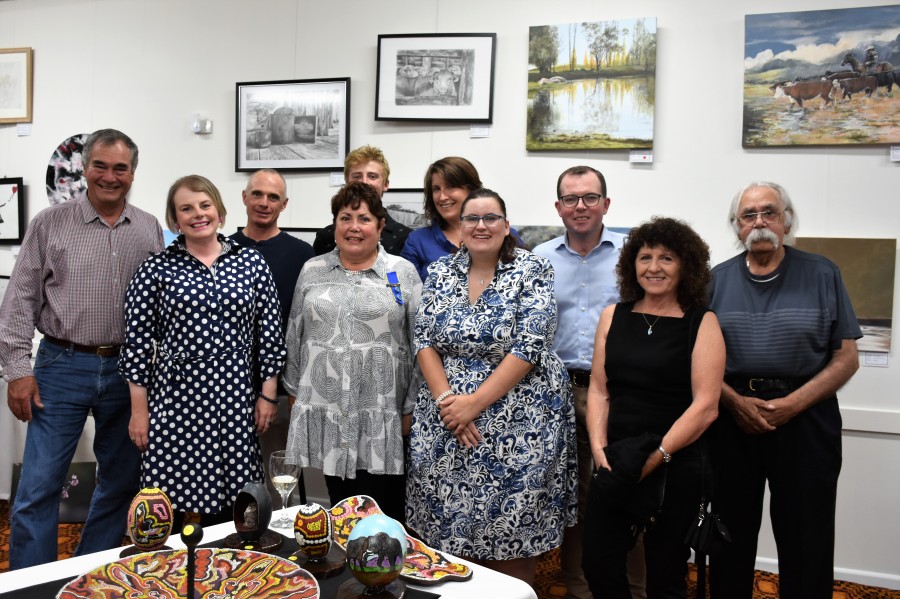 21st Jan 2020
Janelle Stewart
A fresh new approach has reinvigorated the Art Exhibition running in conjunction with the Lamb and Potato Festival. Previously the exhibition had run during the festival with collaborative works by local artists Kay Smith and Brian Irving. With Kay and Brian unable to commit to a full exhibition, the Guyra CWA Evening Branch took on the organisation of the exhibition and opened it up to outside artists, bringing in some sculpture as well.
Their efforts were rewarded with the exhibition attracting over fifty pieces of hanging art and close to thirty pieces of sculpture. There is still lots of local input and diversity with works by visiting artists from Boggabilla, Bonville, and Glen Innes.
An official opening held at the GALA Centre on Friday, January 17th attracted a larger than expected crowd with around 50 people in attendance. Member for Northern Tablelands Adam Marshall declared the exhibition open for business and congratulated the organisers for hosting an incredibly successful exhibition.
"It was wonderful to see a good crowd turnout for opening night to admire the art and talk about our favourite topic at the moment – rain," Mr Marshall said. "For a small community, there is so much local artistic talent, and it is well worth a visit."
The Art Exhibition will remain open until Monday, January 27th and is open daily between 10 am and 3 pm. Members of the CWA Evening branch will be on hand to show you around and assist if you would like to make a purchase. They are pleased with the response so far and have already made a number of sales and are also taking votes the People's Choice Award – you can vote for your favourite piece and the winner will be presented at the end of the exhibition.