Share the Dignity this Christmas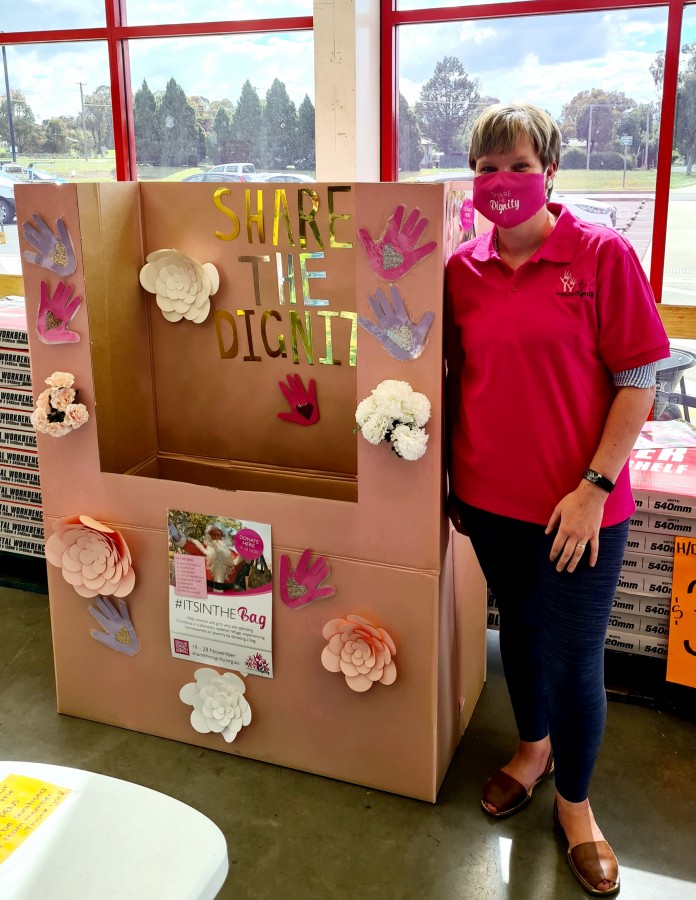 23rd Nov 2021
Share the Dignity is calling on New South Wales residents to support women and girls in need this Christmas through their annual #ItsInTheBag Christmas appeal, encouraging people to donate a filled bag and drop off at their local Bunnings store between Friday 19 November and Sunday 28 November 2021.
Share the Dignity volunteer and Guyra local Anne Lane is once again supporting the initiative, which is now in its seventh year. The aim is to ensure that every woman and girl in need receives a Christmas gift, a gift of the basic essentials – including pads and/or tampons, deodorant, toothbrush and toothpaste, shampoo, conditioner and soap – as well as little luxuries such as hair accessories or a handwritten note.
With COVID-19 pushing more women and girls below the poverty line, and at greater risk of homelessness and domestic violence, #ItsInTheBag donations are in high demand. Share the Dignity Founder and Managing Director, Rochelle Courtenay, said the charity was preparing for another donation deficit in 2021.
"We saw the impact of COVID-19 on our collection last year – nationally, we received 50,000 fewer bags in 2020, compared to 2019. This just shows the strain on those who might not be able to donate at this time, but the need is still there – in fact, we are seeing more vulnerable women and girls looking for support than ever before," Ms Courtenay said.
Gabi Alosi received an #ItsInTheBag donation when she found herself homeless at the age of 22 and knows first-hand how a simple gift can provide hope and dignity.
"I experienced homelessness through my mental health. I had a suicide attempt and wasn't allowed to come back to my residence, so I ended up in a youth homeless shelter. I wouldn't wish that on anybody else," Gabi said.
"The bag made me feel incredibly loved and cared for, and that was something I hadn't experienced in a long time either from myself or others. It meant a lot to me that people felt that I even deserved to receive a bag, and that they were proud of me for moving forward in my life."
Those wanting to support women and girls like Gabi can drop-off an #ItsInTheBag donation to their nearest Bunnings store from 19-28 November 2021 or Sponsor a Bag online. Donations will be distributed to women and girls in need in time for Christmas via Share the Dignity's charity partners.
Guyra locals can drop their bags into CT Electric and Anne will pick them up if needed.