Your country needs you to get vaccinated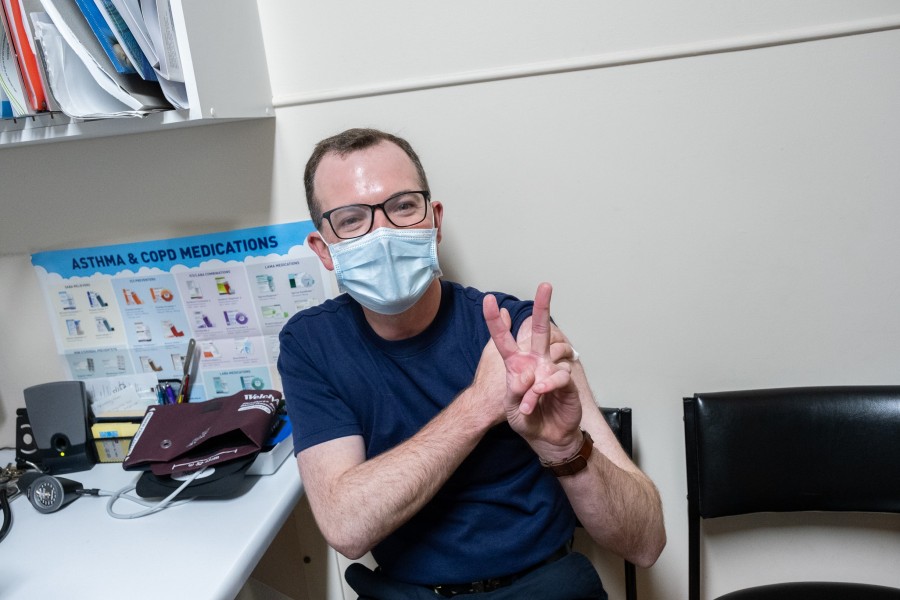 22nd Jul 2021
Last week Northern Tablelands MP Adam Marshall rolled has up his sleeve to receive his first jab of COVID-19 vaccine and has issued a challenge to the community – 'get vaccinated now or risk ongoing extensive lock-downs.'
"With the Delta-variant of COVID-19 spreading at an alarming rate, at this stage in the pandemic it's clear, if you are not already, your country needs you to get vaccinated now," Mr Marshall said.
"As far as I'm concerned the entire adult population of NSW, unless they have an underlying health condition, is now eligible for a jab and should be taking every possible step to get one.
"If you are aged 18 to 59 you can contact your doctor today and have a suitability assessment to receive the AstraZeneca or Pfizer vaccines, as soon as an appointment is available.
This is a message that is being reinforced by local GP Dr Jey at the Guyra Medical Centre, who says that there is plenty of vaccines available in the local community and they just need people to roll up their sleeves.
Dr Jey said that they have already administered 670 first doses of AstraZeneca. 170 of those have returned for their second dose and he expects more to return as they come due. A further 250 people have received the Pfizer since it became available.
While he is pleased with the numbers, he believes there are many people who could have the vaccine, but have been putting it off.
Dr Jey is now encouraging everyone who is eligible to come forward as the way out of the current restrictions and to provide protection if you do come into contact with someone who has COVID.
"We have plenty of vaccines available and want everyone who has been putting it off to get the vaccine as soon as they are eligible," he said. "We want to see everyone in the community vaccinated as soon as possible.
"As long as you meet the guidelines from the government, we are here to get the job done so we can get back to normal."
To receive your vaccination phone the Guyra Medical Centre 6738 4070 to make an appointment. Vaccinations are available throughout the week and they will also conduct a vaccination clinic this Sunday from 10am.