First Tree Planted in Memorial Avenue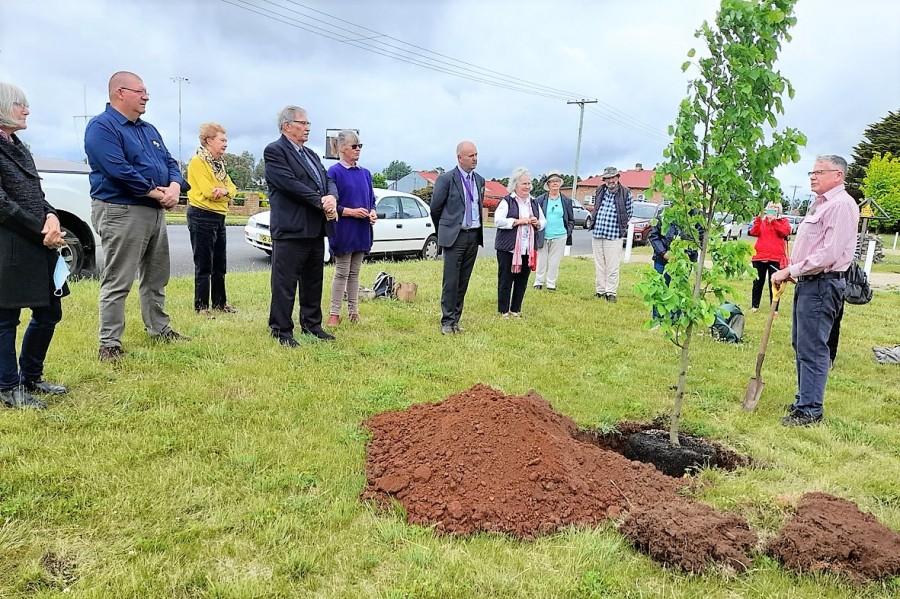 16th Nov 2021
At 11.00am on 11 November 2021, silence fell across Guyra as it does across each State, Territory, city, town and village for one minute as Australia commemorates those who have died in wars, conflicts and peacekeeping operations. Guyra's Remembrance Day Service was hosted by the Guyra Sub-Branch of the RSL lead by its President, Hans Hietbrink at the Soldiers' Memorial Hall in Bradley Street.
Following the service attendees and guests were invited to take a short walk to APEX Park where a tree planting ceremony took place to mark the beginning of the Memorial Park project. This project, as previously reported in the Guyra Gazette, is designed to implement a 1951 resolution of the then Guyra Shire
Council for a Memorial
Avenue/Park to be located in what are now APEX Park and Rotary Park.
Treasurer of the Guyra Garden Club David Kanaley, in addressing those present gave an overview of the project.
"Council's intention in 1951 was to honour those men and women from Guyra and District who died in World Wars 1 and 2," David said.
"The reinterpretation of that resolution by the Guyra Garden Club and Guyra Rotary Club, working in partnership with the Guyra Sub Branch of the RSL, is to honour all those local people who served in all conflicts and peacekeeping operations as a service and sacrifice to their country and local community."
The memorial tree, a Tilia Green Spire, was planted by Mr. James Roncon, General Manager, Armidale Regional Council. Mr. Roncon was accompanied and helped by members of the Guyra Sub Branch of the RSL, Guyra Garden Club, and Guyra Rotary Club and friends.
"This first tree planting will soon be followed by 29 more trees to create a truly special and attractive Memorial Avenue, especially in spring and autumn," David said.
"The trees are all advanced and have been purchased from grant funding from the Strengthening Rural Communities program."
ARC General Manager James Roncon said that he was deeply honoured to be part of the Guyra Remembrance Day ceremony and the Memorial Ave tree planting project.
"Events such as this demonstrate that Guyra is a very nice and proud community," Mr Roncon said. "I know that there has been some angst around the merger of our communities and there is little doubt in my mind that the bringing together of the two council areas could have been better managed.
"We cannot go back in time though and I am committed to ensuring that we strongly focus on that challenge and from this point in time, moving forward, we get it right.
"It is my hope that the first tree planting of the memorial avenue can be a symbolic gesture and commitment to making Armidale Regional Council a strong representative body that works hard for all of the communities it is responsible for and at the same time, acknowledge the unique characteristics of each of the communities and play to those strengths."
The Guyra Garden Club acknowledged the support of the Foundation for Rural and Regional Renewal (FRRR) and the Fire Fight Australia Fund in enabling this important local project to proceed under the FRRR Program: Strengthening Rural Communities. The donor under that program was the Fire Fight Australia Fund.
They also acknowledged the contribution of Scott McFarlane, from McFarlane Earthworks, who kindly dug the whole as a community service. Thank you Scott for your contribution to the ceremony.