Super Spuds call it quits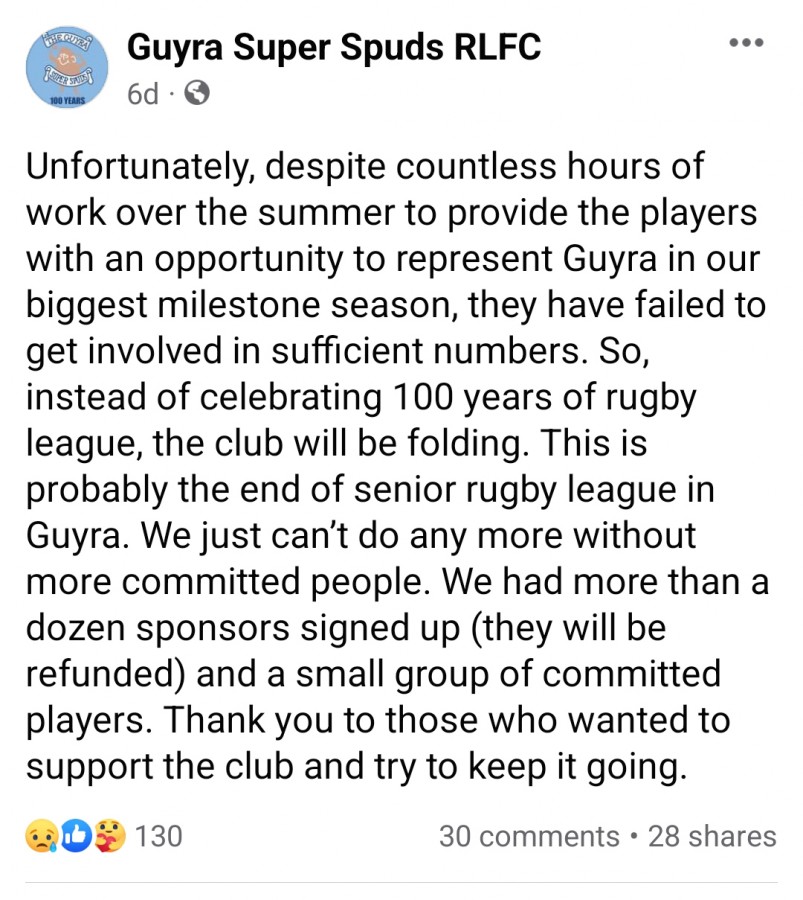 13th Apr 2022
The Guyra community has been left shocked and saddened by the news that the Super Spuds have withdrawn from the Group 19 rugby league competition and the club's future is in jeopardy. It is a bitter blow for the committee who had high hopes and huge plans for the club's centenary year.
The decision comes on the back of COVID disruptions over the last two years, with the 2020 season abandoned and the 2021 season cut short. Plans were in place for a big year celebrating 100 years of rugby league in Guyra, however trouble attracting enough players to form a men's and women's side proved to be the stumbling block for the club.
The decision to withdraw was made at a meeting of the club on Tuesday April 5th, due mainly to the lack of numbers turning up for training as well as low committee numbers. The decision was announced by the club on their facebook page (inset).
Group 19 chairman Terry Carson said it is a huge blow to the competition and regional rugby league. Guyra's withdrawal has forced a redraw of the G19 competition which is now back to eight clubs. Other small clubs are also struggling with numbers and Walcha and Uralla have joined forces to field a team.
Mr Carson said that he hopes Group 19 can help Guyra come back to life, especially with junior league going really well, because there is a need to filter the club's juniors through into to senior league.
Reaction to announcement:
This is heartbreaking. We need rugby league in Guyra. But I totally understand how difficult it has been.
What a shame - a great club & football team over the years. Country Footy is dying- so sad.
How sad. Guyra won't be the same with(sic) the super spuds. The world is changing fast what a shame it's come to this for the town.
Devastating news, fingers crossed the Guyra Super Spuds will rein again. So many fond memories
Thinking of the small group of people who worked hard to support the club, how disappointing that you don't get to see your 100th year
So sad to hear this, a lot of history. It is a very difficult time, drought, floods , bushfires, plus all of the community is doing tough. Hope that it will come back in 2023.