Guyra wool up with the best at Sydney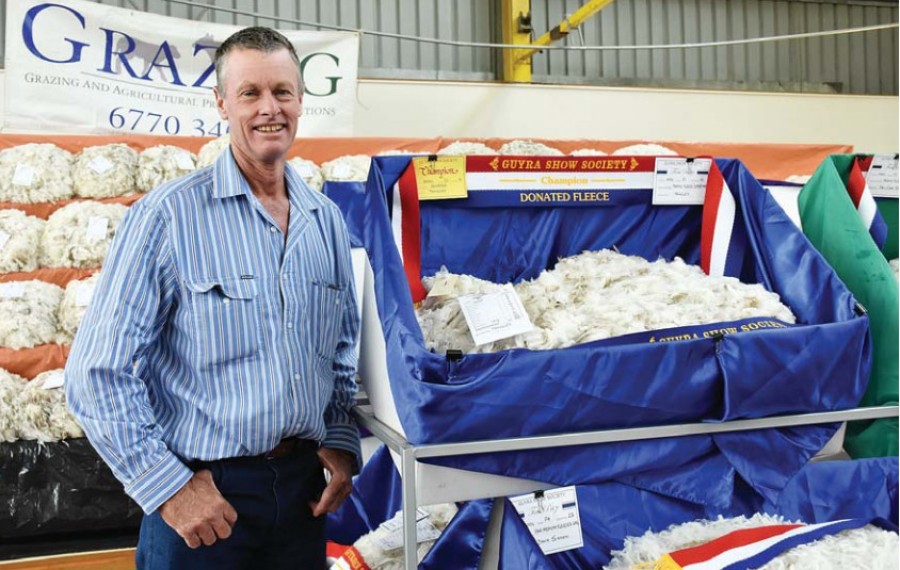 14th May 2019
Author Name
Guyra wool producers Frank and Pip White of 'Tangley' took home the ribbon for the Reserve Champion fleece at the recent Sydney Royal Easter Show, with Mark and Lesleann Waters of Edington Merino Stud, Armidale entering the champion fleece.
It was the first time a stud merino breeder and purchaser of their rams for commercial were named champion and reserve champion. Both fleeces were in the open superfine class. The Edington fleece had a fibre diameter of 17.6 microns, greasy fleece weight of 5.7 kilograms,100 per cent comfort factor and standard deviation of 2.8 per cent. The reserve champion fleece from the White's at Tangley had a FD of 17.8 microns, GFW of 6 kg, SD of 2.7, CF of 99.9 per cent
Entrants this year were up on last year, with 172 in total. Sheep Committee Chairman, Greg Andrews, said this was largely due to an improvement in the number of entries from regional shows.
"That's something we've been pushing because we haven't had a great representation from regional shows before, this year is the best we've ever had, that class was up by 50 per cent," Mr Andrews said. "The standard of entries was excellent given the current seasonal conditions." Merino wool from the Guyra district featured prominently among the winners. As well as the White family winning a number of classes, Graham and Wendy Baxter were among the winners and the Stewart family from "Moray" also featured.
"It is a credit to the producers that the wool is equal to the best from previous year's despite the tough conditions," he said. "Guyra wools are renowned for their soundness and brilliance and this was evidenced with the results."