Memorial Park briefing for Councillors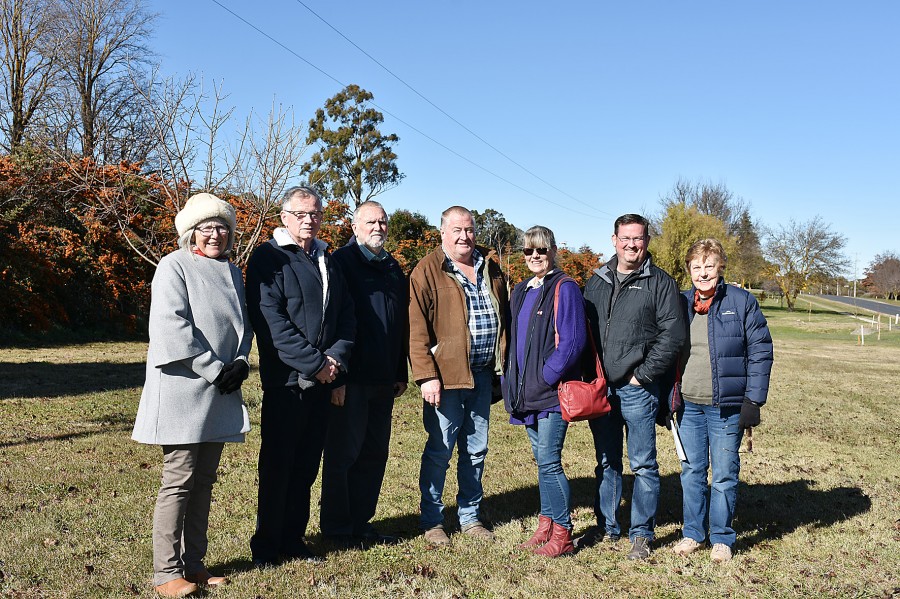 14th Jun 2022
The Guyra Garden Club last week met with Armidale Regional Council Mayor Sam Coupland and General Manager James Roncon to discuss progress on the Memorial Park Project. Councillors Mepham, Gaddes and Galletly were also in attendance, along with representatives from the Rotary Club of Guyra, the Guyra RSL sub-branch and the proposed Guyra Progress Association.
They discussed the plans at a meeting at the Bowling Club before conducting an onsite walk through the Memorial Park Project along Bradley Street. It brings together five sub-projects to
enhance the area and fulfil a 1951 resolution of the former Guyra Shire Council to honour service men and women of the district.
The first part of the project involved the planting of a Memorial Avenue of trees which was completed last summer. The initial plantings, funded through the Foundation for Rural and Regional Renewal (Strengthening Communities Program), have grown well and established themselves over the past few months. A meandering concrete pedestrian avenue through the Memorial Trees is also proposed if further funding can be obtained.
The Memorial Plaques sub-project (funded by the Federal Governments 'Saluting Their Service (STS) Commemorative Grants Program') will see memorials for WW1 and WW2 service members erected in the park. Sixty-four veterans from WW1 and over 50 from WW2 have been identified as having paid the ultimate sacrifice. Sharon Bowles from the Guyra Garden Club said that "the park will be a place that honours and respects all those from Guyra and the District who served."
The third sub-project is the Mandala Garden funded through the Foundation for Regional Renewal (Tackling Tough Times Together program). It will see the creation of a mandala garden in the stylised form of a distinguished service medal at the southern end of the park near the Sandon St intersection. David Kanaley from the Garden Club said that this will be a place of reflection and springtime beauty.
"A Spring Flower Festival could then be initiated that will focus on the flowering memorial trees in the park plus the four flower beds in the Mandala Garden," Mr Kanaley said. "This festival, if it took hold in our community, would then grow and change over time and provide and economic stimulus to Guyra."
To complete the project additional signage is proposed explaining the purpose of the park as well as providing details on Council's website with links to the National War Memorial for more details on the service men and women identified on the memorial plaques. A final addition to the project will be the installation of and electric BBQ near the existing shelter and children's playground which is being funded by a Rotary District grant managed by the Rotary Club of Guyra.