Ebor hatchery busy breeding trout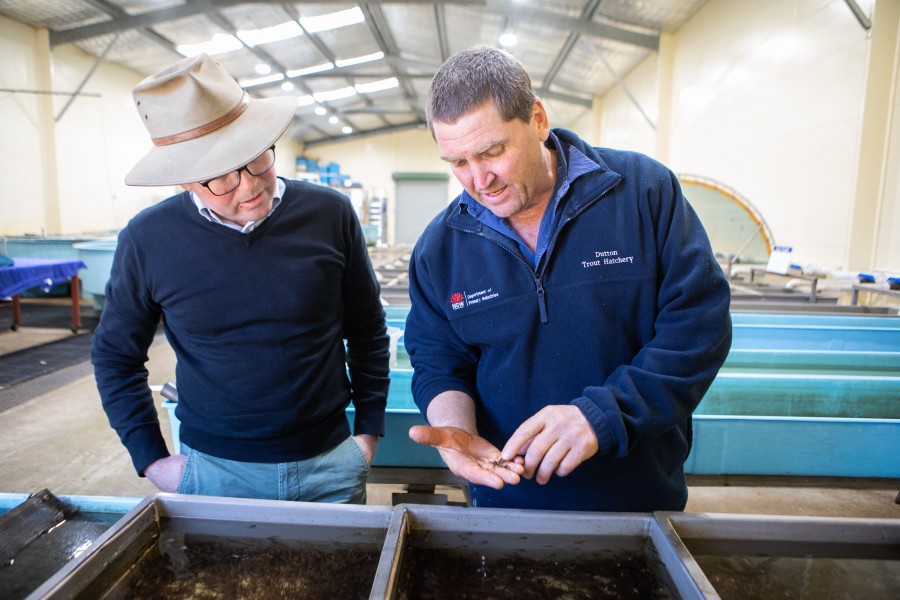 07th Jul 2020
The Dutton Trout Hatchery near Ebor is poised to play a major role in the State's trout re-stocking program as drought conditions ease across NSW. The facility produces more than 1.6 million trout each year – around 1.3 million rainbow and 300,000 brown trout fry and fingerlings, in support of the State's valuable recreational fishing sector.
Northern Tablelands MP Adam Marshall and Minister for Agriculture Adam Marshall said that these fish are stocked in streams and impoundments throughout the New England and Central Tablelands to support trout fisheries and all the socio-economic benefits that trout fishing offers.
"The breeding season has commenced here at Ebor with both brown and rainbow trout being stripped of eggs and laid down for hatching, primed for stocking from October through to December," Mr Marshall said.
"In conjunction with the Gaden Trout Hatchery at Jindabyne, this is part of our overall stocking program of 3 million trout and salmon produced each year.
"While the drought is not over, good rainfall has seen rivers and streams in much better condition and with further rain we are hopeful that the Hatchery can undertake a full stocking season as part of the comprehensive drought recovery program."
Local stocking is undertaken in close consultation with recreational fishing stakeholders at the New England trout Acclimatisation Society (NETAS), who provide advice on river conditions and help release fish in approved sites.
Fish produced at the hatchery also travel further afield and 1,000 tagged Rainbow Trout about 300mm in size were recently released into Lake Lyell and Lake Wallace in the Central West.
More than 500 of the tagged trout have been released as part of a study of growth rates and survival from redfin predation, and inclusion in the NSW Trout Strategy which aims to future-proof the recreational trout fishery.