Joseph named Student of the Year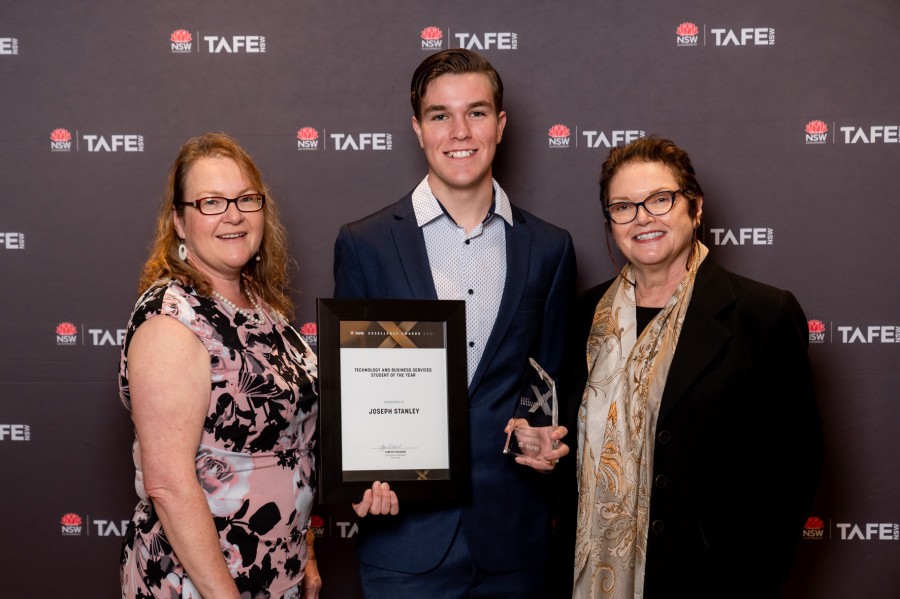 26th May 2021
Joseph Stanley has been named as Tafe Digital'sTechnology and Business Services Student of the Year. He received the honour at the TAFE NSW Excellence Awards which were held in Sydney last week. The awards recognise outstanding student achievements and acknowledge determination, resilience and leadership.
Joseph completed a Certificate II in Business online through TAFE Digital and was nominated for the award by teacher Nora Hunt.
The nomination noted Joseph's 'Strong work ethic and excellent organisational skills which saw him complete his Certificate II in Business to a high standard.
'He successfully balanced his studies whilst studying for his high school certificate and holding down two part-time jobs — a remarkable achievement.
'His strong team skills, dedication and commitment have set Joseph up for success.'
Along with mother Michelle, he flew to Sydney on Wednesday, May 19th after he was told he was a finalist in the awards. Joseph was both shocked and surprised to find he was not only a finalist, but was in fact the winner.
Being focused on a university pathway, he had not considered TAFE, until he discovered he could complete an industry-level qualification that would also count towards his HSC. Joseph said that he was honoured to have received the award and thanked his teacher Nora Hunt for the nomination.
"I personally loved studying through TAFE Digital due to the ease of the OLS Platform, accessibility of units and close-knit support you are surrounded by, especially with your teachers," Joseph said.
"Although I had never physically met my teacher prior to this evening, I feel like I have known her my entire life.
"I have had various conversations and many, many emails with Nora regarding my course but also other topics like applications to university and my recent school change."
Joseph was chosen to deliver the Student Vote of Thanks speech at the conclusion of the night on behalf all the award recipients. He received a certificate, trophy and monetary reward for being the winner.
Next year he hopes to go to University where he will undertake a combined Bachelor of Commerce and Bachelor of Business Management.