Growing careers at Costa Tomatoes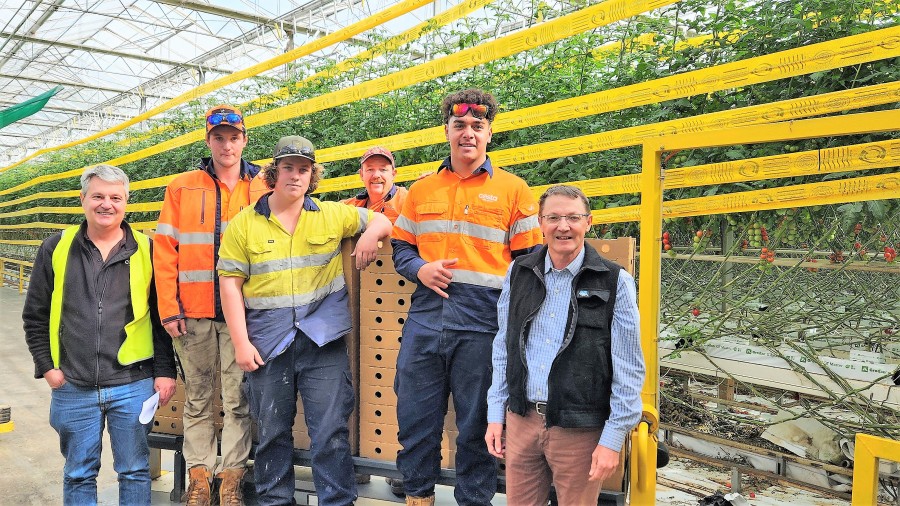 10th May 2023
Three new apprentices have joined the Costa Tomato operations in Guyra. Neil Ashman, Andrew Pearson and Marty Ryan all come from the Guyra region and have started boilermaking apprenticeships.
Neil, Andrew and Marty, will be attending TAFE in Armidale as part of their Certificate III in Engineering and Metal Fabrication. Combined with on the job training it will give them a broad range of skills required in the maintenance of the glasshouse operation.
"Costa is very proud to support Neil, Andrew and Marty in the development of their careers and their skills are very important to the smooth operations of our Tomato glasshouse business," Scot MacDonald, Costa State Manager, said.
"We hope this is the start of a long and successful career with the company. Facilitating training and jobs in Guyra for the upcoming generation is a win for these men, the Guyra community and the future of agriculture."
Marty Ryan started working full-time with Costa towards the end of last year, and is enthusiastic about starting his apprenticeship. He is a local boy who attended school at Ben Lomond and Guyra Central schools before boarding at Farrer Memorial Agricultural High School.
"I had wanted to get into the workforce but there weren't a whole lot of opportunities in the region," Marty said. "Then I was offered an opportunity to do work experience with Costa and it was those two days of work experience and that sold me.
"Joey Mills and Michael Fowler from the maintenance team are an absolute pleasure to work for. It's pretty amazing to have this opportunity to work with a leading producer in the food industry.
"We are getting lots of opportunities working in this field as it is a very diverse company."
Andrew and Neil are also locally educated. Andrew attended Bald Blair Public School before completing his education at Guyra Central School where he took part in a school-based traineeship with Costa. Neil is originally from Samoa and has been in Australia since 2019, completing his education at Guyra.
Costa Maintenance Manager Joey Mills said he was honoured to have the new apprentices join his team.