Pipeline becomes lifeline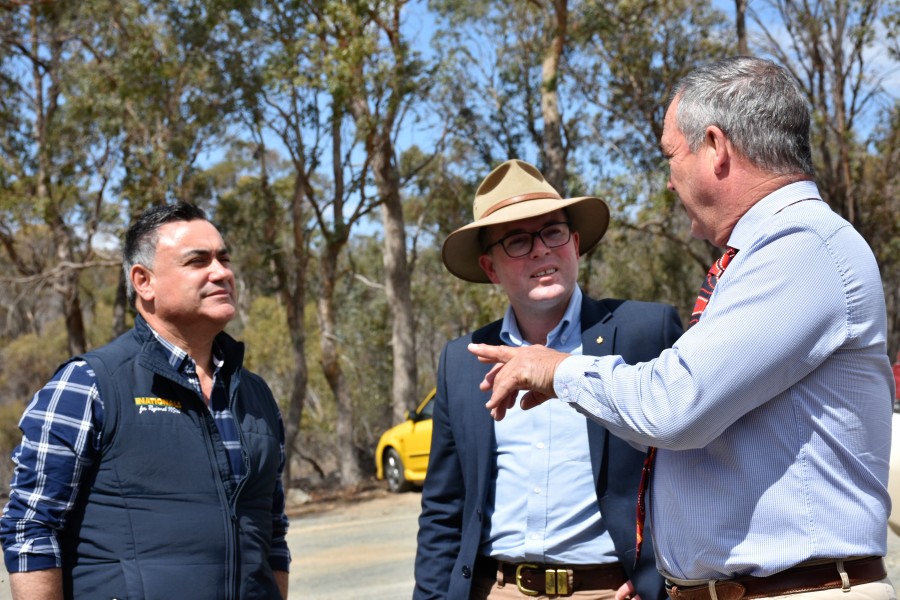 08th Oct 2019
Janelle Stewart
The Malpas Dam to Guyra pipeline has become Guyra's lifeline and is now the sole source of water for the town. Water in the Guyra dam is now being preserved for emergencies and sits at just 21 days of supply.
The $13 million pipeline was officially switched on by Deputy Premier John Barilaro, Member for Northern Tablelands Adam Marshall and Armidale Regional Council Mayor Simon Murray on Monday morning. The pipeline is now pumping 48 litres of water per second to the Guyra water treatment plant with the capability to pump up to 60 litres when needed.
"Given this current drought conditions, this pipeline is a savior for Guyra," Mr Marshall said.
"We made sure this project progressed quickly, providing $820,000 in additional emergency funding to get water pumping through the pipeline earlier than planned and to cover the cost of water carting from Armidale.
"This project is critical to unlocking Guyra's growth potential and I thank the community and council for its incredibly strong support for this project.
ARC Mayor Simon Murray said the completion of the pipeline was a significant achievement for the region and has provided a lifeline to the Guyra community during these unprecedented drought conditions.
"The pipeline was always conceived as an emergency backup for Guyra and wasn't expected to be used 100 per cent of the time," Cr Murray said.
"The trucks have now stopped and all of Guyra's water is coming via the pipeline, providing vital household treated water to the community.
"Our focus now for the entire Armidale region is to save water and avoid our day zero in just over 400 days. Every drop we conserve now means we prolong a date with day zero."
Mr Barilaro also announced a further $5.77 million will be provided by the State Government to support the design and construction of an emergency water pipeline from the decommissioned Puddledock Dam to Armidale's water treatment plant.
Since Puddledock Dam was decommissioned in 1968 it has only been used as an emergency water supply but with drought conditions continuing it may soon be called on to play a larger role.