Volunteers celebrated for National Volunteer Week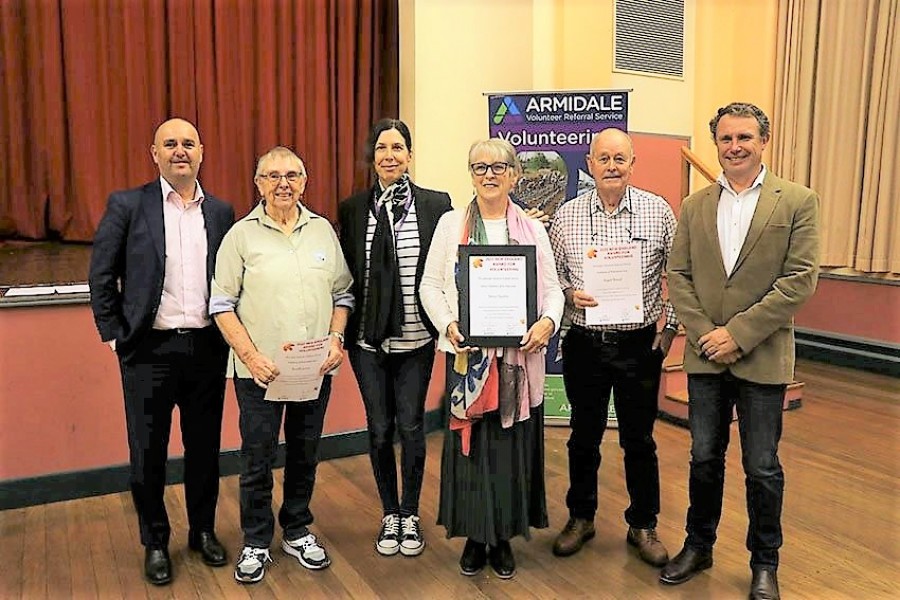 24th May 2022
The region's volunteers have been recognised in the New England Volunteer Awards last week as part of National Volunteer Week.
Fifteen locals were nominated across the Armidale Volunteer Referral Service (AVRS) Awards and the Alwyn Jones Community Service Award.
Armidale Regional Council Mayor Sam Coupland presented the awards and said it was an opportunity to thank volunteers for generously giving their time to the region.
AVRS Employee Volunteer – Armidale Town & Country Real Estate
Armidale Town & Country Real Estate has provided two staff members every week to deliver meals to the vulnerable community members for the last five years. They never fail to turn up and have proven to be extremely reliable. The staff are usually a lot younger than other regular volunteers and the clients seem to appreciate seeing younger faces.
AVRS Adult Volunteer - Susie Stevenson
Susie Stevenson was recognised for her work with the NSW Adult Migrant English Program and is also a valued member of the TAFE NSW AMEP Volunteer Tutor team.
AVRS Senior Volunteer (65+years) - Jenny Hayden
Jenny Hayden has been recognised for her tireless volunteer work for Guyra Support Services (GSS). She has been volunteering for GSS for over 15 years, delivering meals on wheels to Tingha residents, organising other volunteers in the area and doing the monthly roster. Jenny also provides transport for all clients in Tingha to Armidale and Inverell.
AVRS Volunteer Team - Armidale Transport to Treatment Volunteers
Armidale Transport to Treatment volunteers have been commended for their free transport service to cancer patients in the Armidale Local Government Area, who have no access to family support or transport. This service became uncertain with COVID restrictions when NSW Health regulations limited one patient in a car at a time and volunteers were called upon to do up to three shifts a week and also utilising additional vehicles to make sure the cancer patients could attend their appointments to continue treatment.
Alwyn Jones Community Award – NERAM Volunteer Team
NERAM Volunteer Team have been awarded for their work with New England Regional Art Museum and assisting with almost every aspect of the organisation, ranging from public programs, exhibitions, events, education programs, library and archiving and more. The work from volunteers allows NERAM to provide the community with cultural events and experiences. The volunteers go above and beyond what is asked of them and their wealth of knowledge is priceless.