Fitting tribute for horse enthusiast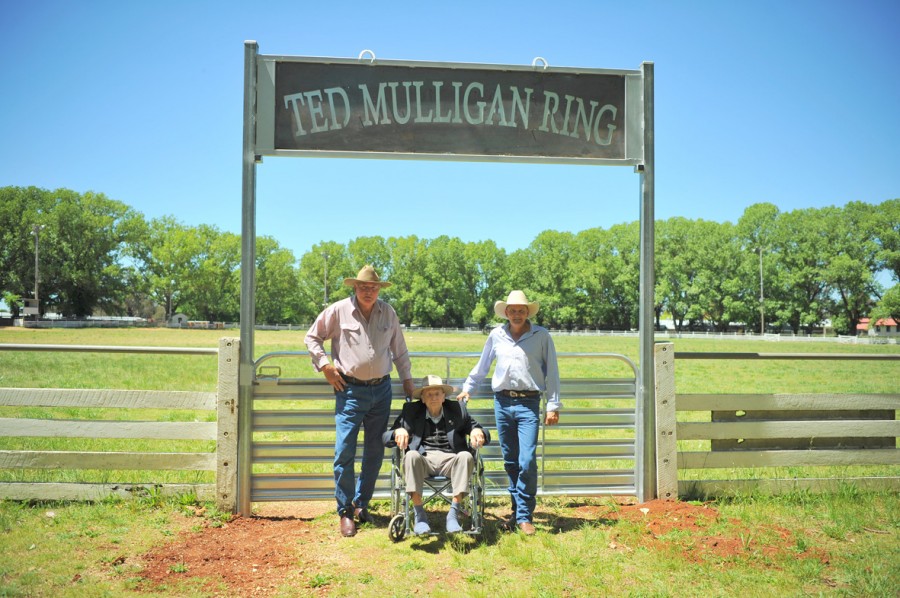 01st Dec 2020
Kevin Davidson and Doug Ferris, on behalf of the Guyra Campdraft Club, made a fitting tribute to Ted Mulligan on his 104th Birthday recently. They replaced the old ring entry gate in front of the Secretary's Office, naming the ring in Ted's honour. Due to the COVID restrictions, only 10 people, which included seven members of Ted's large family could be present.
Ted's daughter Mary Carrigan has compiled Ted's recollections of the Showground in his earlier years.
Ted's first memories of riding at the Guyra Showground were around 1924 when he was about 8 years of age. His father was a steward in the pavilion at the Guyra Show, so Ted thought he would enter his horse in some of the ring events. Ted learned to ride when he was not much more than a toddler, consequently establishing his life-long love of horses and a passion for horse riding.
"Everybody rode in those days as it was really the only mode of transport available to people," explained Ted.
There were still very few cars about. Ted rode to school each day and rode over the family property, "Glenore" doing stockwork and he would often ride into both Armidale and Guyra.
When he was around 20 years old Ted, along with his brother Maurice, joined the 12 Light
Horse Regiment prior to them both enlisting in the army.
Initially they joined the Armidale branch but soon there were enough Guyra members to form a Guyra Branch. Weekend camps were held on the showground where members undertook basic training, including weapons handling, ceremonial drill, mounted and dismounted tactics and regimental manoeuvres.
Some years later around 1958 Ted, along with other locals Charlie Scholes, Abby Grills and Eddie Mills became the founding members of the Guyra Pony Club. Pony clubs were being established throughout NSW after the war. The Pony Club troop drill was based on similar principles to that of the Light Horse Brigade.
Ted was an active committee member of both the Guyra Pony Club and the Guyra Show Society and was a great believer in helping wherever he could, providing riding instruction to many children. If children other than his own did not have a horse he'd try and provide them with one or help organise one for them. Ted, along with all six of his children and some of his grandchildren were very keen competitors in the Show ring.
This love for horses and horse riding became the catalyst in forming many lifelong friendships and a great deal of sporting and social outings have taken place at the Guyra Showground with Ted and his family attending Pony Clubs, Shows, Gymkhanas, Rodeos, Campdrafts and Sports Days.
In the mid-nineties Ted and his wife Iris left the family property Ellerslie and moved to town. Without the commitment of running the property Ted, who by now was in his 80's, was able to concentrate on his horses and riding full time. Ted along with his great friend Doug Faint spent their days riding and attending to their horses at the showground. Ted has always loved the showground with its magnificent Elm and Poplar trees circling the ring and felt proud that Guyra Showground was amongst the best in regional Australia.