New gateway to Mother of Ducks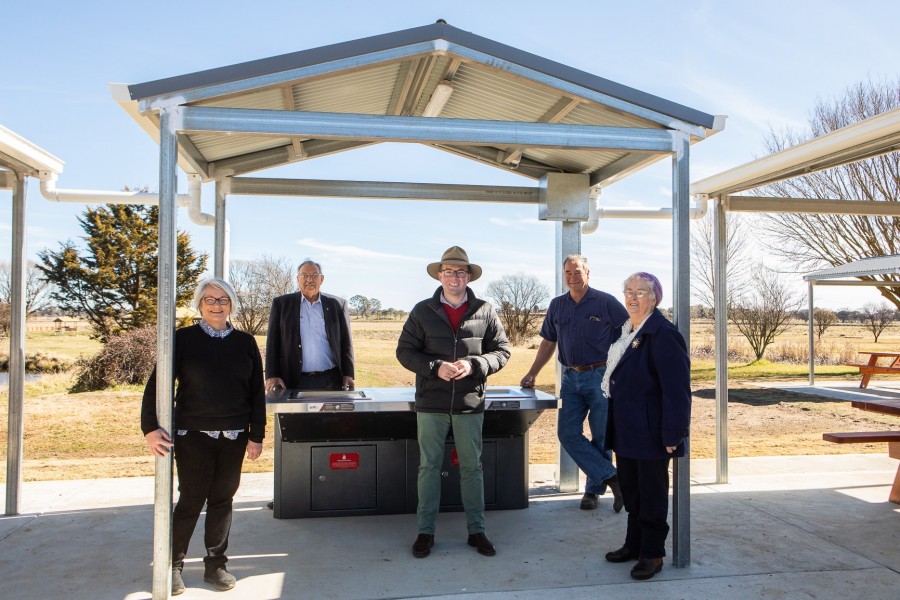 04th Aug 2020
The recreation area at the Mother of Ducks Lagoon Nature Reserve day use area is ready for an influx of visitors with the completion of a $459,182 upgrade.
Armidale Regional Council responded to requests from the Guyra Chamber of Commerce to upgrade the outdated amenities and day use area securing a grant of $459,182 through the State Government's Stronger Communities program.
The funds have been used to upgrade the toilet facilities and install new BBQs, picnic tables and shelters. The project also included the refurbishment of the caravan and RV overnight camping sites and new turf which has transformed the recreation area for locals and visitors to explore the beauty of the Lagoon and Reserve.
Armidale Regional Council Director of Businesses and Services Scot MacDonald said the recreation area was well utilised by grey nomads, families and bird watchers as a base to explore the Mother of Ducks Lagoon and the wider Guyra region.
"The Lagoon is an internationally recognised and protected high altitude wetland," Mr MacDonald said. "It is a breeding ground for several freshwater wetland bird species and a resting place for numerous migratory birds including the Japanese Snipe that lives in the Lagoon from August to April."
"The Reserve attracts bird watchers and visitors from across Australia and the world and we welcome these visitors and flow-on economic stimulus for Guyra," he said.
Member for Northern Tablelands Adam Marshall said the project was a good example of the Council partnering with the Guyra community to prioritise the improvement of local infrastructure.
"The Guyra community, in this case the Guyra Chamber of Commerce, has worked with the Council to secure State Government funding and we are now seeing the fruits of this collaboration," said Mr Marshall.
"Free camping is a simple but effective tool which is known to encourage travellers into a town and spend money in local businesses," he said.
"With even a small two percent increase in overnight stays at the lagoon reserve, Guyra has the ability to increase visitor expenditure in the town by almost $2.75 million each year.
"In the current economic climate that is not chicken feed and will go a long to supporting local cafes and supermarkets to keep people employed and their doors open.