TroutFest Art Show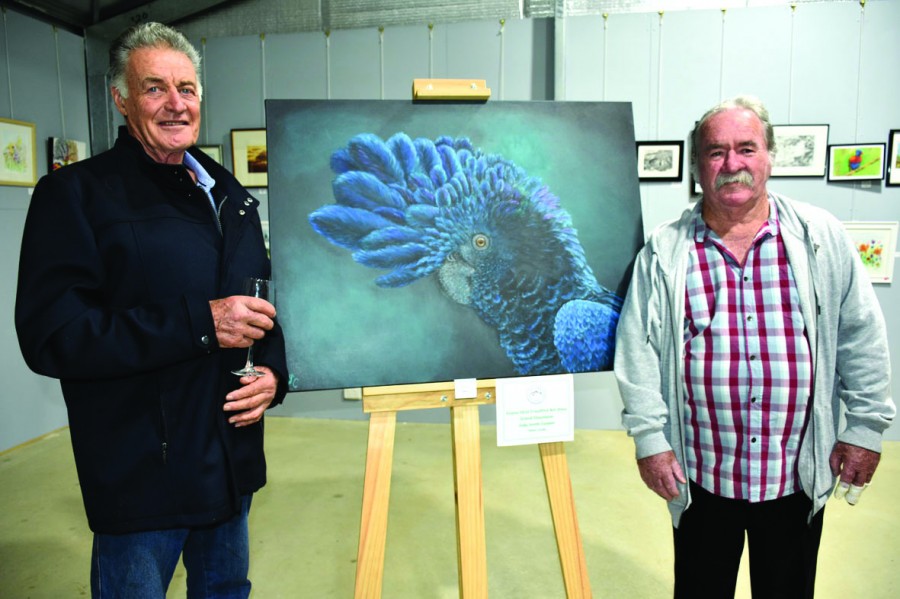 03rd Oct 2023
TroutFest kicked off on Thursday evening with the official opening of the Art Show. This year's entries came from Tamworth, Armidale, and Glen Innes. Organiser Lynne Chapman said it was pleasing to see quite a lot of Guyra artists entering this year.
The grand champion exhibitor was Black Mountain artist Judy Smith-Cooper with her spectacular "Hello Cocky". The Drawing category was also won by Guyra artist Terrence Boys.
Local Wal Chapman won the photography section with Robyn Gordon highly recommended. The watercolour category was won by regular exhibitor Lynne Corbett and the Acrylic section was won by Glen Innes artist Rebecca Conduit.
There was a great response from the children of the district schools in both the art and the hand written story competitions. First and second prizes in the art went to Lewis Robertson and Oskar Laing from St Mary of the Angels.
Beth White and Belinda Parkinson developed the hand written story for children in the digital age. The "Gone Fishing" theme resulted in lots of humorous and clever stories. First prize went to Dustin Turnham from Bald Blair Public School, with Cooper Turnham from Bald Blair school coming second. Several highly commended awards were given in both competitions. Ebor School won the sculpture section with their array of sparkly fish.
The children's awards were sponsored by Vu and Nu Nguyen from Guyra Pharmacy. Gift bags with fishing gear will be presented to all children who received a highly recommended award when school resumes.
Thank you to the sponsors Sue Ross Real Estate, Royal Hotel, Juneil's cafe, Guyra Pharmacy and the Guyra Lions and Rotary Clubs. Special thanks to Neil and Danielle Fereday from What's Brew'n who generously did the Gin tasting for free at the Art Show opening night.
Over the weekend TroutFest continued with a successful market day held in Bradley street and many other events held throughout Guyra and district to celebrate the opening of the Trout fishing season.
There will be a wrap of festival events in next week's Gazette.