Dams full across the Armidale region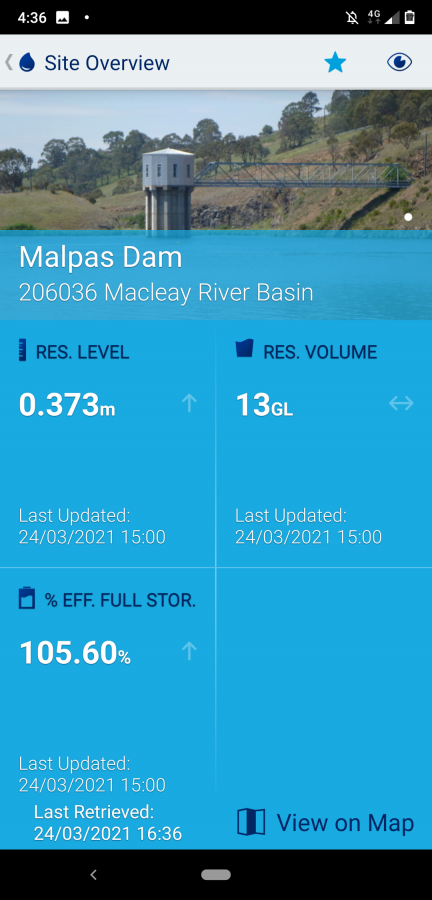 24th Mar 2021
From midnight tonight the Armidale region will be moving out of water restrictions
into permanent conservation after experiencing significant rainfall overnight which
has resulted in full and overflowing dams.
In the last week the upper reaches of the catchment north of Guyra has received
approximately 149mm of rainfall. The already saturated catchment has meant
yesterday's heavy rainfall has quickly filled dams.
Armidale Regional Council Mayor Ian Tiley said it was an understatement how happy he
was to hear the news.
"I am sure I share with everyone in the region the sense of relief knowing our water
supply is full and overflowing," he said.
"It was January 2018 that Council last recorded 100 percent capacity in Malpas Dam
so today is a momentous occasion.
"This is a time to celebrate this achievement and reflect on how tough it has been
over the last two years battling devastating drought conditions. Now we can take a
breath and congratulate the community on its achievements in water conservation."
Water management including moving in and out of restrictions is now reflected in the
new Drought Management Plan that was adopted by Council last month.
When not in active water restrictions Council will now be referring to this as
Permanent Conservation. Residents will still be encouraged to practice sensible
water conservation and work towards an average per person daily usage of 200 litres
per day. The only other permanent change is that sprinklers cannot be used during
the heat of the day due to evaporation.
"Permanent conservation is a widely used term across Australia for water utilities
when not in active restrictions," said Mayor Tiley.
"In the Armidale region we have always been able to use sprinklers and use water
without any issues. But since the drought and the effects of climate change we
cannot go back to those days and must be very aware of conserving water when we can.
Water prices are also higher so increased usage will hit your back pocket as well."
Council's Drought Management Plan is on the Council website and further information
on what permanent conservations means is also available.