Drought Resilient Pasture Landscapes update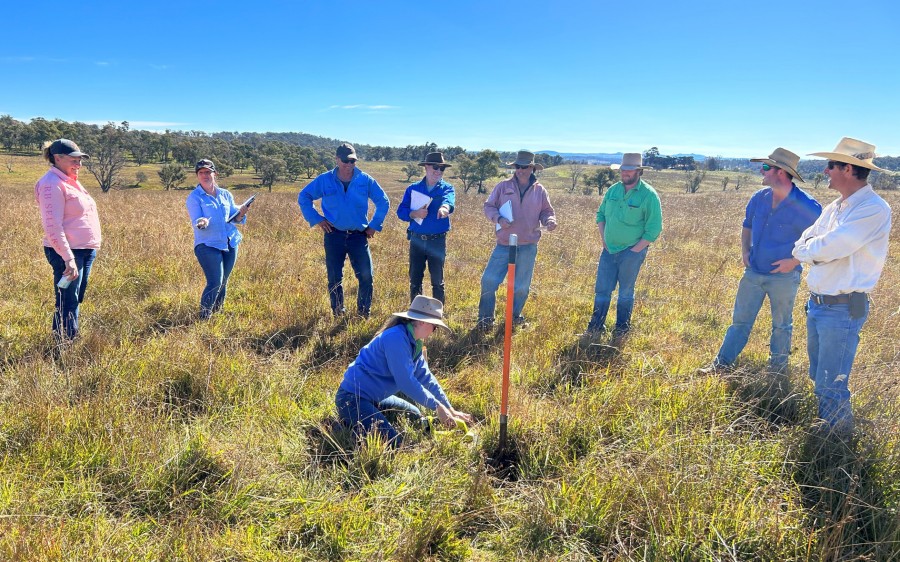 18th Jul 2023
Farmers who are members of the nine coaching groups of the Drought Resilient Pasture Landscapes project, have spent some time during their third round of coaching sessions looking at their predicted pasture availability for the coming spring.
Aside from calibrating their eye for estimating pasture availability (also called herbage mass) and the green (quality) content of the pasture, these members have customised their Ag360 accounts with paddock and animal details for their property.
The time spent doing this using the online tool Ag360 (www.ag360.com.au) has paid off for these farmers, allowing them to access 6-month forecasts of rainfall, soil moisture, and pasture availability.
Jaimi-lee Edwards, a pasture coach with the project at UNE said that it's one thing to know your current livestock feed position, but it's another to see the forecasts that go hand in hand with farmer experience, to help make decisions about stock numbers and grazing management.
"We are also pleased to have UNE complete the establishment of seven water quality monitoring sites on various waterways in the Northern Tablelands, and look forward to seeing how our decisions with pasture management improve water quality in our waterways," Jaimi-Lee said.
"The fourth round of coaching sessions start next month, during which we'll keep an eye on likely spring pasture availability."
Drought Resilient Pasture Landscapes contact and upcoming workshops, please visit https://snelandcare.org.au/.