Passing of local legend Ted Mulligan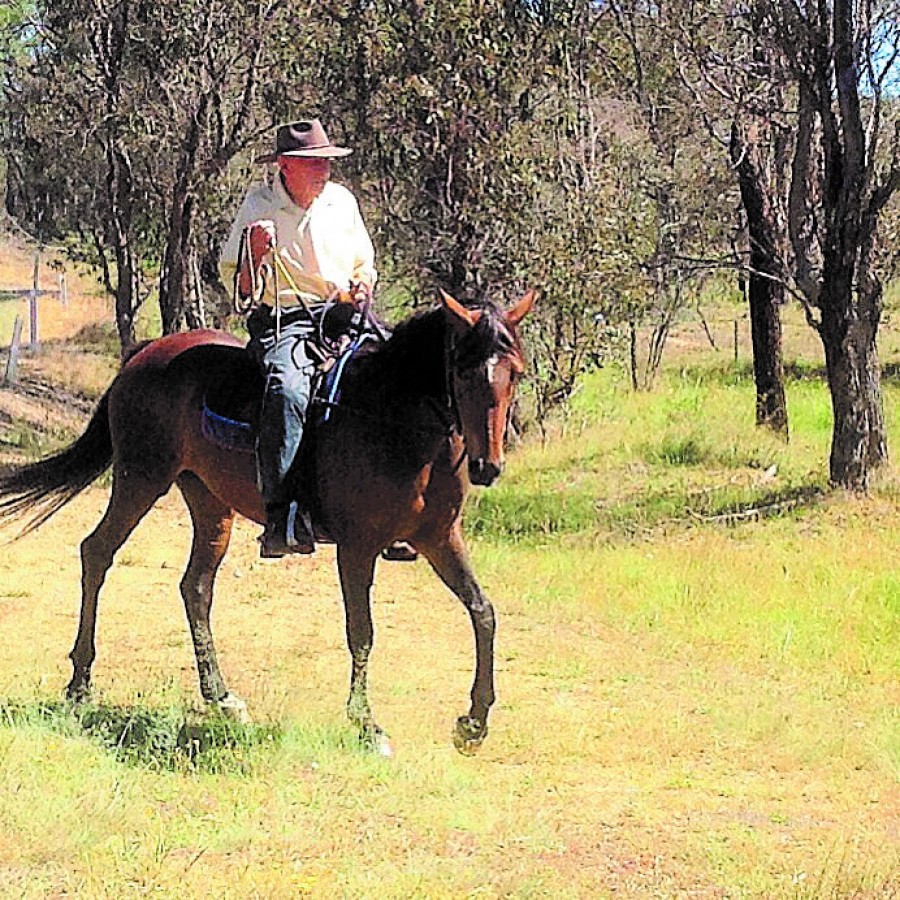 11th May 2021
A large crowd is expected to farewell Guyra's oldest citizen Ted Mulligan, who passed away on Thursday at the age of 104. A funeral service will be held at St Mary of the Angels Catholic Church on Monday May 17th, commencing at 2pm.
Ted lived in Guyra all of his life except for his time in the armed forces during the second World War. His great passions were his family, farming, horses, cricket and telling stories.
Ted was the last surviving member of his generation of Mulligans, who grew up at "Glenore'" west of Guyra. He joined the 12th Light Horse Brigade in 1938, and when the Light Horse Brigade was disbanded Ted enlisted in the Army. He served in Northern Australia and became one of the first six servicemen in Australia to learn to drive tanks. In 1943 Ted transferred to the Small Ships Division where he saw active service in New Guinea and the South Pacific. He was promoted to the rank of Sergeant and received a total of 10 bravery and service medals.
After the War, Ted returned to Guyra and married Iris Cox on 21 August 1948. They purchased the property "Ellerslie" where they raised their six children.
Ted made a lifelong commitment to the community of Guyra and contributed his time to many organisations. He was patron of the Guyra District Cricket Association, Northern Tablelands Cricket Association, Guyra Show Society, Guyra Pony Club, Zone 13 Pony Club Association and the Guyra Sub Branch of the RSL. His contribution to the community has been recognised with many awards at local, state, and national levels.
Ted was awarded the Medal of the Order of Australia (OAM) in the 2006 Queens Birthday Honours List, became the Guyra Citizen of the Year in 2008 and received the Guyra Local Achievement Award in 2014 during NSW Seniors Week.
On his 100th birthday in November 2016 he was given the 'Keys to the Town of Guyra' by Senator John Williams and received a Papal Blessing from a representative of Pope Francis.
Ted loved cricket and horses and it is fitting that he will be remembered long into the future with naming honours at the Ted Mulligan Oval, the home of cricket in Guyra, and the Ted Mulligan Ring at the Showground, the home of horse events.He was as good a batsman as any to come out of Guyra, still playing cricket in his 60s and continued riding until well into his 90s.
Ted remained active and in good health despite his advancing years and was in his 80s when he retired from full time work. At the age of 91, Ted represented the Australian Light Horse Association at the dedication of a memorial to Australian soldiers at Beersheba, Israel.
At the age of 98, he was diagnosed with Lymphoma. In typical fashion, Ted fought back and achieved complete remission, becoming one of the oldest patients worldwide to be successfully treated for an aggressive Lymphoma.
Despite slowing down over recent years, his interest in community activities continued and he remained a keen spectator at local cricket matches when weather permitted. His last outing in the community was to attend the Anzac Day service in Guyra on April 25th. Ted passed away in Guyra MPS on Thursday, May 6th.
He is survived by his children Lorraine Stone, Ray Mulligan, Lindsay Mulligan, Mary Carrigan and Maureen Epworth. Daughter Dianne Newberry passed away in 2009 and his wife Iris sadly passed away in 2018.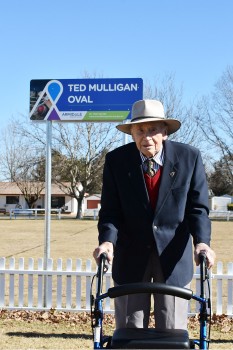 click for larger image