Spring mowing underway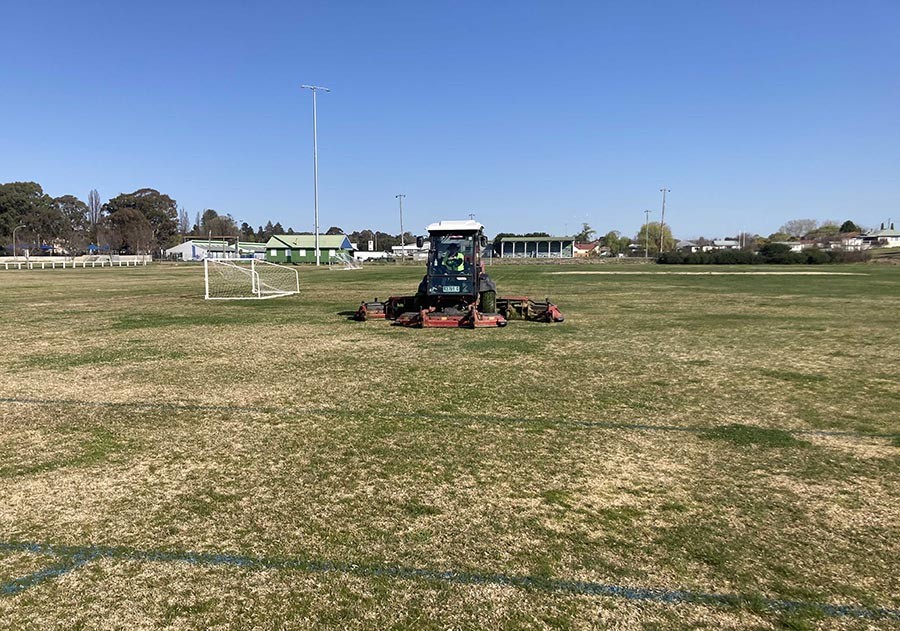 12th Oct 2021
If you've walked through one the region's 21 playing fields or 77 parks in recent weeks, you may have noticed they are looking particularly green and lush due to the recent rainfall and warmer weather.
Armidale Regional Council staff have been working hard over the past few weeks to implement the Spring mowing schedule to protect the health of the grass and maintain the aesthetic value of the region's outdoor spaces.
Council's General Manager James Roncon said that while there may be increased mowing, staff follow a rotating schedule to ensure disruption to the community is minimised.
"Council is responsible for the maintenance of 270 hectares of grassed playing fields and parks, and our outdoor staff do a wonderful job maintaining these community assets, especially during this time of year," said Mr Roncon.
"Between the months of September and April, we mow our playing fields twice a week to ensure surfaces remain at the highest standard, while urban parks are mowed on a three week rotation," said Mr Roncon.
"We do this in a way that does not interfere with peak periods of use, and mowing is not carried out in the early morning as a way to minimise disruption."
The community is also being encouraged to make the most of the region's parks and outdoor areas during the sunny weather.
"We've all been stuck inside for the past few months, so it's the perfect time to start enjoying everything our region has to offer while soaking up the sunshine," said Mr Roncon.
"From our off leash dog parks to our state of the art playgrounds, parks and playing fields, there's something for everyone to enjoy this Spring."
For more information about the region's parks and outdoor spaces and where you should visit next, visit the Sport and Recreation page on Council's website.