Memorial Park Mandala Garden underway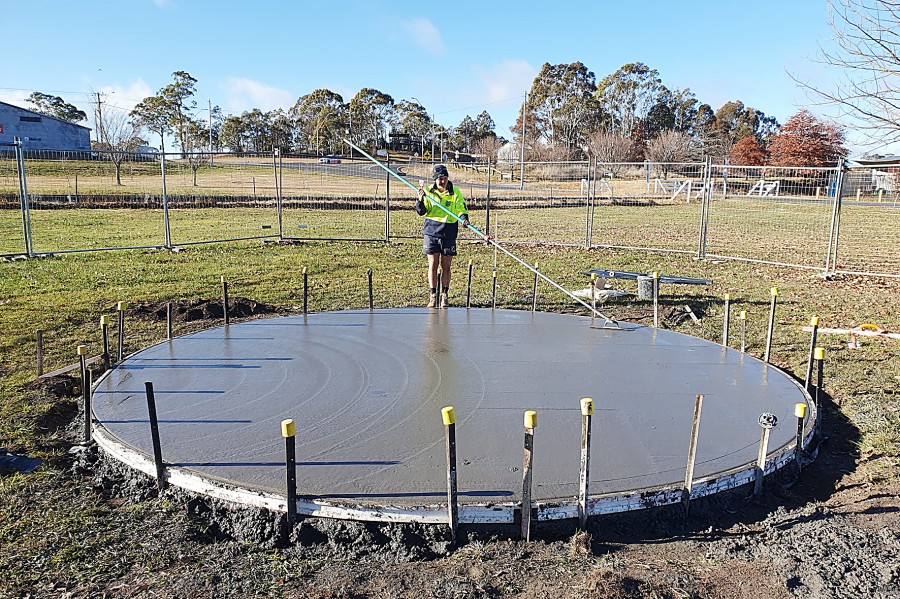 21st Jun 2023
Construction work has started on the new memorial Mandala Garden opposite McKie Park on the on the corner of Sandon Street and Lagoon Road opposite the early childhood centre.
This is a key element of Guyra Garden Club's Memorial Park project which includes a Memorial Avenue of Trees, the Mandala Garden, and Engraved Stones in Memory of local service men and women who died overseas during the two World Wars.
In 2020, Guyra Garden Club was awarded funding by the Foundation for Rural and Regional Renewal (FRRR) and the Department of Veterans' Affairs towards parts of the project.
The Club's proposals were backed by Armidale Regional Council, Rotary, the RSL Guyra sub-branch and other community organisations. In 2022, the Country Women's Association Guyra Branch also decided to support the project by funding a Rotunda to mark its 90 years of service to the Guyra community.
Many people have worked to progress the Guyra Memorial Park project with physical construction of the Mandala Garden starting in June 2023. A cement slab has been laid for the garden centre and will be the base for the Rotunda to be assembled in October.
This week, shaping of the outer circle pathway and the north-south and east-west pathways began. This work is being done by local contractor Scott MacFarlane. Corten steel garden edging has been ordered through DTB Fabrications in Tenterfield for delivery soon.
Planting out of the four garden beds will commence in Spring. Guyra Garden Club is planning a remembrance morning tea in early November to open the garden and thank contributors.
The Guyra Memorial Park project aims to fulfil a 1951 resolution of the then Guyra Shire Council. They say patience is a virtue. It is the hope of the Guyra Garden Club that this new garden, rotunda and avenue of trees will be a welcome addition to the open spaces and gardens of Guyra and will help build a stronger, more engaged community.