CBD upgrade enters next stage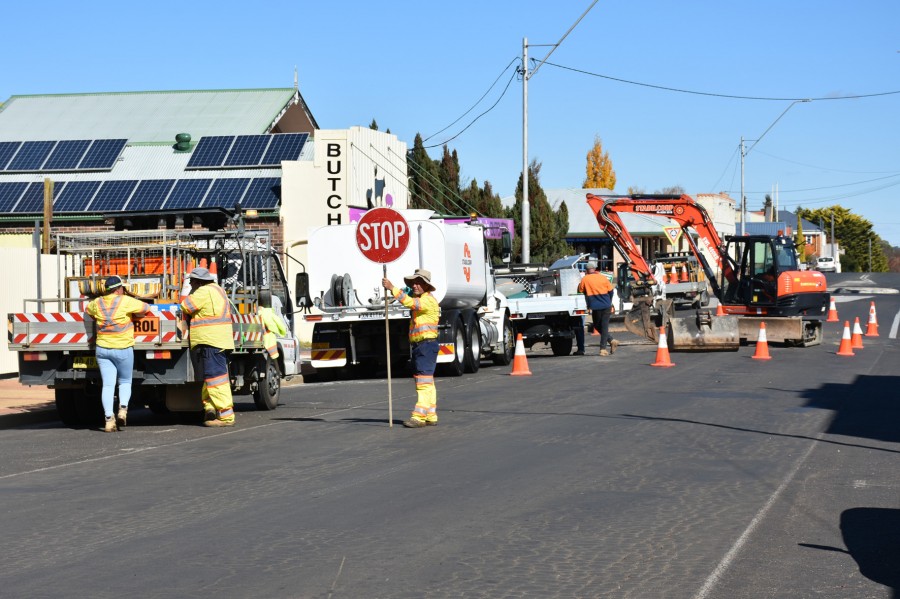 27th Apr 2021
The Guyra CBD Upgrade has entered the next stage with work commencing this week on the section between Nincoola and Mackenzie Street. Proposed works involve the excavation and reconstruction of the existing road pavement which is expected to take about four weeks.
Pedestrian and traffic access along Bradley Street will be temporarily affected and will include a 24 hour detour which will be in place for the duration of the work. Footpaths will remain open to facilitate pedestrian access to businesses at all times.
Progress and future plans for the CBD upgrade have been outlined in a report prepared for the the monthly meeting of Armidale Regional Council which is being held in Guyra on Wednesday, April 28th. As well as providing an update on progress, the Project Management Office (PMO) is seeking Council's endorsement for the replacement of trees in the CBD.
The PMO has recommended to Council that nine existing trees along Bradley Street should be removed and replaced with up to 20 established crepe myrtle trees. The trees would be surrounded by a variety of flowering plants and grasses to add colour, interest and symmetry to the main street year round.
Their justification to council is that the current red maples are an unsuitable species and will outgrow their current location. They say that the root balls of the trees are protruding higher than the new curbing and that without root protection barriers uncontained root growth poses risk of damage to existing and future infrastructure.
Further works in the planning stages are an upgrade the overhead powerlines along Bradley Street, with Essential Energy currently finalising plans.
Strategies are also in place to deliver water main upgrades, future proofing works for future services upgrades, and footpath replacement.