Walkabout Barber drops in to town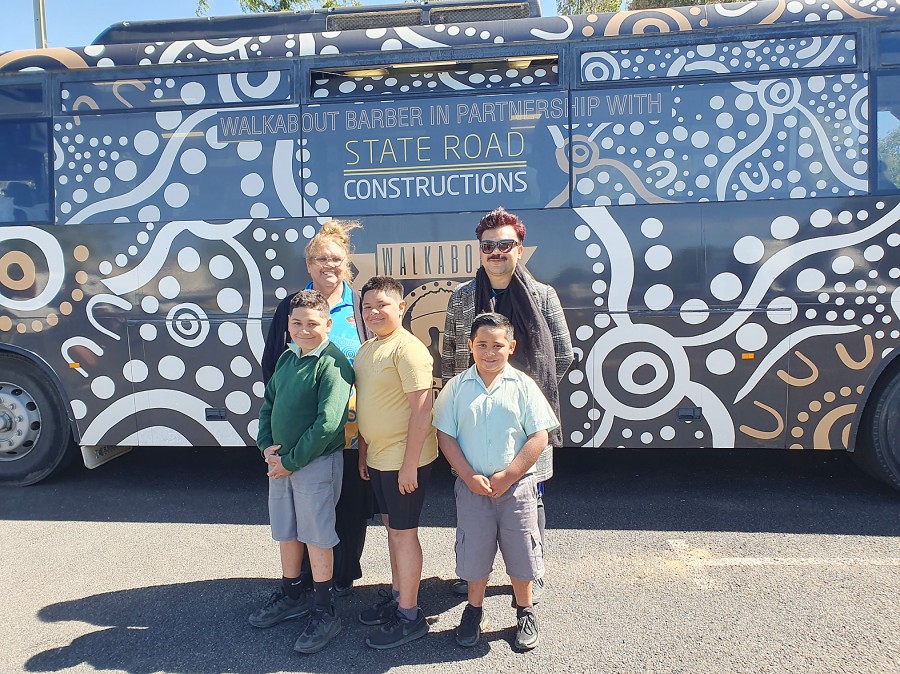 22nd Nov 2022
A mobile barber shop with a focus on a fresh cuts and conversations around mental health called in to Guyra on Tuesday. The Walkabout Barber service is the brainchild of Brian Dowd, an Indigenous trauma recovery specialist who originally started cutting hair as a way of connecting with his son, who was later diagnosed with autism.
He loved it so much that he now travels around Australia with his team providing not only haircuts, but also pampering services, at the same time building relationships with his customers.
It was a return visit for the bus which last visited Guyra in January 2021. This time around there was a lot of excitement as people of all ages waited in line for their turn in the chair.
The visit was organised in conjunction with Armajun Aboriginal Health Service in Armidale. Armajun aims to provide culturally appropriate Aboriginal health care services and the promotion of healthy lifestyles, well-being and good health with the support and participation of our communities.
Dennis from Armajun said that the barber's chair is a great place to connect, talk, and build relationships.
"The Walkabout Barber is able to communicate at a level that members of the local Aboriginal community can relate to," he said.
"Often we only see the negative stuff, but when we get together like this we can show everyone there is a positive side to who we are and what we do."
"This approach works because while he does the haircuts he chats and is able to draw out what is happening in people's lives."
And it is not all about haircuts. A section of the bus is set aside as a beauty shop where women can get a pampering session.
Gina from Armajun said that the visit is all about making connections with the community by getting them all together.
"Visits like this help us to get to know each other," she said.
"The locals get to know about Armajun and the services that we can offer and also get to know our faces so when they need to reach out it is just a little bit easier."
Also involved in the organisation of the day was Guyra Aboriginal Health worker Nellie Blair.
Nellie works with the Inverell branch of Armajun which teams up with Armidale to provide services in the Guyra Community.
Some of the services offered include Optometry, Dental and Mental Health services as well as Drug and Alcohol counselling.