Introducing Recycled Style – recycling clothes for a sustainable future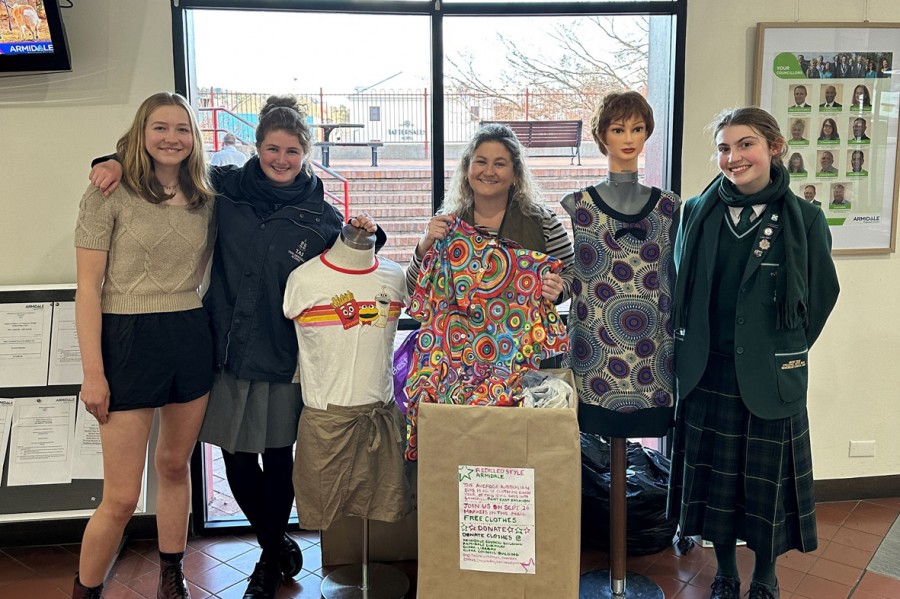 05th Sep 2023
In a bold step towards a more sustainable and eco-conscious future, students from Armidale's local High Schools are thrilled to unveil their ground-breaking initiative: Recycled Style.
This innovative program aims to reshape the way we think about clothes recycling, fostering a circular fashion economy that minimises waste and maximises resource efficiency and individual creativity.
The fashion industry's impact on the environment is staggering, with a significant portion of discarded textiles ending up in landfills each year. Traditional linear fashion systems contribute to overconsumption and pollution, exacerbating the global waste crises. Recycled Style addresses these issues head-on by reimagining the entire lifecycle of clothing items.
Recycled style introduces a revolutionary circular fashion model, namely targeting the redistribution of used clothing and other textiles to the wider community during the community markets in September. Representatives from multiple high schools have banded together in an effort to redesign the local fashion industry and the impact it currently has on our regional landfills.
Recycled style will be receiving donations from multiple collection points including Armidale Regional Council Civic Administration Building, Armidale Regional War Memorial Library, and the Guyra Civic Administration Building.
Donations will be collected up until 23 September and redistributed for free at the Armidale September markets on 24 September.
Join the Recycled
Style revolution:
How to Get Involved
Recycled Style invites individuals, businesses, and organisations to be part of this transformative journey towards sustainability. There are several ways to participate:
• Donate: Clean out your closet and donate gently used clothing items at designated Recycled Style collection points.
• Shop: Discover one-of-a-kind upcycled fashion pieces at the Armidale September Markets on 24 September.
• Advocate: Spread the work about the importance of circular fashion and encourage others to redistribute their old clothing and join the movement.