Start a 'Sconversation' on mental health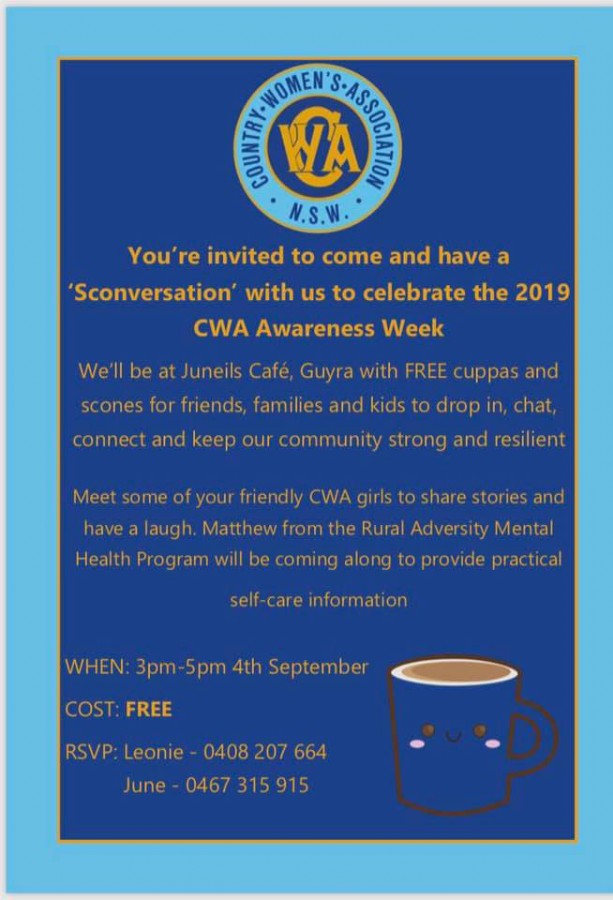 28th Aug 2019
The Country Women's Association (CWA) of NSW will mark its annual Awareness Week from September 1st to September 8th and is asking the local community to "Start a Sconversation' to help raise awareness of mental health issues in the bush.
This year's awareness week is focussing on women's mental health awareness and support services in regional, rural and remote communities, and how everyone can help make a difference when it comes to maintaining robust mental health both personally and in those around us.
With ongoing drought continuing to be a major challenge in many parts of the state – presenting enormous mental health implications in rural and regional areas – the CWA of NSW feels there is an urgent need to shine a spotlight on the issue.
Secretary of the Guyra Evening and Guyra branch of the CWA of NSW, Leonie Hawkins said one of the organisation's main messages this Awareness Week was the importance of a support network and regular catch-ups – or a 'Sconversation' with friends.
"One of the strengths of the CWA of NSW is the supportive social network it offers women so our members understand the power of a Sconversation – boil the jug, sit down and enjoy a cuppa and a chat," she said. "Being able to speak freely in a supportive environment is important for anyone's mental wellbeing and for those who are listening it's an opportunity to offer support and some advice if it's needed - just sharing out loud what might be worrying you can sometimes be enough to lift the weight people are feeling."
Leonie said that women on the land particularly were often required to wear many different hats, and during the ongoing drought may also be supporting a partner under enormous pressures while also nurturing children suffering the mental health impacts of the drought.
"These kinds of pressures will take a toll on anyone and we all owe it to ourselves to be aware of family or friends who may be struggling and also take notice of our own mental health and reach out if we need to," she said.
"It is challenging enough to maintain strong mental health in country communities where the 'tyranny of distance' is very real and the ongoing drought is just adding to these challenges at the moment."
The Rural Adversity Mental Health Program (RAMHP) is a major project of the Centre for rural and Remote Mental Health (CRRMH), and is a supporter of this year's CWA of NSW Awareness Week campaign. RAMHP has 19 coordinators based across regional, rural and remote NSW who inform, educate and connect individuals, communities and workplaces with appropriate mental health services and programs.
Leonie said that the CWA of NSW welcomed the support of RAMHP and had produced a handy reference card for branch members to distribute locally during Awareness Week, with important support information from RAMHP on one side and the CWA's famous scone recipe on the other.
"The aim of the information card is to help make people feel more comfortable about offering advice to someone who they think may be struggling and we hope the scone recipe on the other side will motivate people to host their own 'Sconversations' and make it a regular catch up in the diary," she said.
"Too many people feel like they have no-one to talk to and this Awareness Week our message is that's something we can all start doing something about."
As part of CWA Awareness Week, the Guyra Evening and Guyra Branches will be holding an afternoon tea at Juniels Café on Wednesday, September 4th from 3.30pm. Local women interested in joining the Guyra branches can contact Leonie on 0408 207 664.