Spotlight of Local Business - CT Electric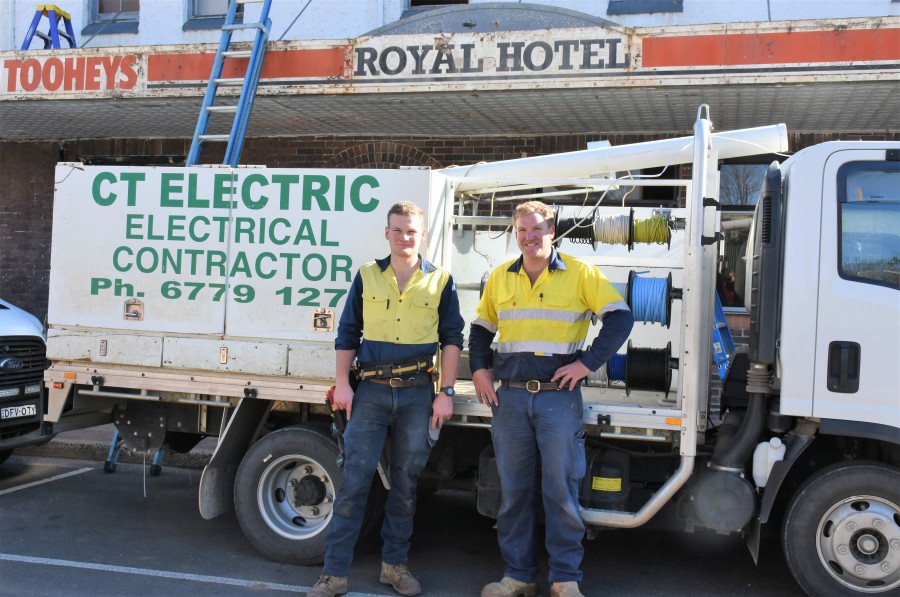 07th Jul 2020
How long have you been in business? 44 years – we first opened in Nincoola St in Partnership with Ralph Constable and then moved to current premises after twelve months.
How many staff do you employ? We started out with just Geoff and Ralph. Currently, we have six electricians working for us and at times have had up to 12 people working when we are busy. We always try to employ local apprentices and have trained around eight over the years. We currently have two local boys Hunter Davidson and Alex Nitschke working with us.
What services do you offer? Domestic and Commercial Electrical services, Pumps, Air Conditioning, TV and aerials, underfloor heating, white goods sales and installation
What is the best/worst thing about owning your own business? The best thing is being your own boss and not having to take orders. The worst is the long hours that you have to put in and being called out in the middle of the night and on weekends.
How have things changed since you started? There has been a lot of changes in technology which you have to be on top of. The boys find it easier to keep up to date and they learn on the job and from each other. In the office it is harder to keep up to date with all the changes.
What effects have challenges such as drought, bushfires and coronavirus had for your business? We have been lucky that our workload has remained constant throughout and we are still working flat out. Life on the land doesn't stop and while some things may be on hold for now there has been plenty of work to keep us going.
What is the most interesting job you have carried out? We are lucky to see lots of variety in our work. From helping farmers to working in the Costa glasshouses means there is always a new challenge to keep things interesting. Working with Costas really provides us with constant work and covers downturns in other areas.
Do you get good feedback from your customers? A lot of the time we are called out to emergencies, sometimes in the middle of the night. When that happens people will ring up to say how much they appreciate the effort which makes it worthwhile.
Any advice for people starting out in business? Go with your feeling and work hard, Guyra is a good little town and the people are kind. If you have the ambition to be your own boss, just go with it.
Final thoughts? It hasn't always been easy. When we started out we were in partnership with Ralph Constable who was tragically killed. We did it tough for a few years after that and if it hadn't been for the support of the town we might not have made it through.
Over the years we have
always tried to employ local people because they are our future. I also think that having the tomato farm on our doorstep has been really good for the town and has meant we can keep our staff in work year-round.