Stock Dog 'Challenge' a Great Success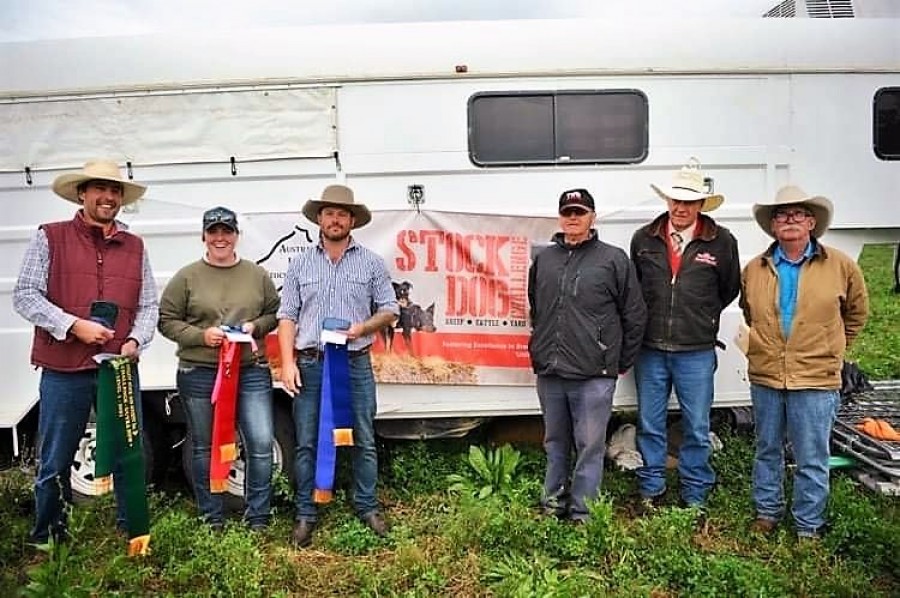 27th Apr 2021
On the weekend of the 10th and 11th April, Lockyer Rogers generously hosted the Australian Utility Stock Dog Society Inc. 'Challenge' at his property, 'Stratton'. As well as letting the Society use his grounds, he also kindly provided all livestock required for the weekend.
Lock Rogers being a tremendous stockman himself for many years, has always worked stock with dogs and wouldn't have it any other way. His love and passion for animals is an understatement. Competitors came from near and far, even a shaggy Smithfield called Wombat came to compete.
The AUSDS challenge held at Stratton was split into two levels, each consisting of three sections – paddock sheep, yards sheep, and arena cattle.
The Society encourages all competitors to attempt all obstacles and points are awarded once completed. The challenge is designed to test all aspects of practical working situations.
In Level 1 the AUSDS received 27 nominations. The place getters for Level 1 were: 1st Chris Egan, Millthorpe, with Anntre Ray, 2nd Grace Halsted, Bulga, with Karana Emma IV, 3rd Jeremy Grills, Armidale, with Tammy
In Level 2 the AUSDS received a total of 14 nominations. The place getters were: 1st Darren Harcoan, Yeoval, with Culgoa Deb, 2nd Will Nichols, Walcha, with Graham, 3rd Mitch Bennett, Guyra, with Bendit Charlie
Mitch Bennett, manager of Stratton, who organised all the setup for the weekend including helpers, local and away, spent hours in the background making the weekend flow.
The Society being ever grateful in the effort of the three judges who gave their time and expertise over the two days, John Rosten, Jeff Ritchie and Ian Berry. These three gentlemen have surrounded themselves with stock dogs all their lives. Their passion and experience made them very suitable judges.
A challenge like this is not possible without our following sponsors:
Altitude Angus, Wandsworth, Trent Jones Contracting, Guyra, Guyra District Veterinary Services, Bellaine Merinos, Guyra, Moffatt Ground Spreading, Guyra, Ramage Engineering, Guyra, Taurus Fine Meats, Seymour, GrazAg, Guyra, Elders Yea, JoeyCan (Aust.) P/L, Ridley's Dog Food, Guyra , Paige's Working Dog and Pet Supplies
Spectators, staff and competitors' stomachs were kept full with thanks to the Grill Monkeys, also the warming beverages from Bean Travelling, Chris Yorke and his crew.
The AUSDS 'Challenge' is not all about winning, but learning and building a high calibre working stock dog.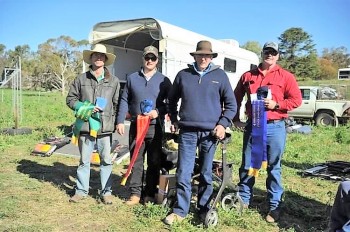 click for larger image